Hall of Fame Inductee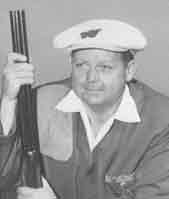 Herb Parsons
Inducted in 1995
Born: 5-May-1908
Died: 19-Jul-1959
Age: 51
State: TN
Joel Herbert Parsons was born in western Tennessee May 5, 1908 and it is doubtful that any other marksman of his generation touched so many people. A brilliant shooter and crowd-pleasing showman, Herb embodied humor, adventure, love of country, and the highest standards of personal and professional conduct to millions of people throughout his two decades of shooting exhibitions.

From a family of hunters, at age 7 he received his first gun, a single shot-Winchester .22 rifle. By age 11 he had his first limit of quail, and when hunting was slow he often practiced shooting thrown walnuts. While Herb was a freshman in high school, he witnessed a demonstration by Adolph Topperwein, Winchester's great exhibition shooter, which helped steer his future lifetime course. In 1929 Herb was hired by Winchester as a salesman for Mississippi and eventually, after a great deal of shooting with Ad (who was nearing retirement due to failing vision) in 1939 and 1940 began touring military installations giving over 200 exhibitions to soldiers, sailors, and airmen. During World War II he enlisted as a shooting instructor teaching aerial gunnery to flight crews. At the end of the war he returned to the exhibition circuit for Winchester.
He tied for runnerup in the Clay Target Singles Championship with 199 and had missed just four of 600 singles targets to that point. In 1953 he won the Class Singles industry title with 199 and 25 shootoff. The following year he paced his division in the Grand American Handicap with 92 from the then-maximum 25-yard line. In 1956 he was Clay Target runnerup with 198.
Parsons was named to the All-America team yearly from 1949 through 1958 (there was no 1950 team). In 1955 the handicap back yardage was moved from 25 to 27 and Herb was the first industry person to reach 26 yards with a score of 99 from 25 yards.
Herb received hundreds of letters after each performance praising him for his family values. He neither smoked nor drank alcohol. Sons Lynn and Jerry participated in their Dad's shows in the summer months. Herb is credited with originating the saying, Hunt with your son today, and you'll never have to hunt for him tomorrow".
"Showman Shooter", the film featuring Herb Parsons and his shooting feats has been seen by millions and is still being enjoyed by shooters as well as the general public. Herb Parsons passed away after a heart attack in 1959.