Hall of Fame Inductee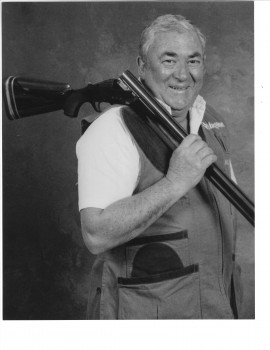 Amerigo Pagliaroli
Inducted in 2016
Born: 5-Oct-1932
Died: 6-Apr-2010
Age: 77
State: CT
Amerigo Pagliaroli of Trumbull, Connecticut, was well known throughout the ATA and beyond as a goodwill ambassador for trapshooting. For more than four decades he shared his enthusiasm for and expertise in the sport, accumulating a vast number of trophies and friends from far and wide. During more than 20 years of that time, he was employed by Remington, initially as manager of the Lordship club and then as a member of its shooting promotions and marketing department.
Born in Italy, he had shot International trap there. In 1949 his family emigrated to the U.S., and from 1953 to 1955 he served in the Army. Returning to his machinist trade in Connecticut, he shot non-registered targets from the late 1950s before beginning his ATA career in 1961.
As manager of the Remington GC at Lordship from 1976 until it closed in 1986, he kept the facility open more days and longer hours plus hosted more ATA shoots. At its peak, the club accommodated more than 44,000 shooters and threw over three million targets annually.
Amerigo traveled extensively for Remington beginning in 1987, competing as an industry rep at the Grand American, Satellite Grands, the Golden West Grand and many ATA Zone and state shoots. He collected 12 Grand American industry trophies, including titles in the 1990 Clay Target Championship and Grand American Handicap, the GAH again in 1992, the 1996 Singles Class Championship and the 1997 Dayton Homecoming.
More than 60 industry, veteran and senior veteran trophies from Satellite Grands were in his collection. He swept the four industry crowns at the Western tournament in 1988, the Dixie in 1996, and both shoots again in 1997. At the Northeastern, Western and Southern Grands, he earned six additional singles, three handicap, three doubles and two all-around titles in industry ranks plus two veteran doubles, one veteran HOA, one senior vet handicap and one senior vet all-around.
He recorded wins at Connecticut, Idaho, Florida, Massachusetts, New Jersey, New York and Pennsylvania state shoots; the ATA Eastern Zone; the Golden West Grand and Las Vegas Fall and Midwinter tournaments; and Westy Hogans. At age 70, he earned his first ATA crown over the field, the 2003 Connecticut singles. He was veteran titlist in 1999 and 2002.
Ten times he was named an All-American, eight as an industry representative and twice as a veteran. In 1996 he was inducted into Connecticut's trapshooting Hall of Fame.
Amerigo had a congenial, larger-than-life personality, and his mechanical expertise was extensive; he often helped shooters fix their guns, regardless of make. For many years, his multilingual capabilities in Italian, Portuguese, Spanish and French were utilized at IWA, a European convention similar to the SHOT Show. He retired from Remington in 1998.
During his military service, he was based in Germany and was a boxer, becoming the Army's featherweight champion. He was also a skilled soccer player and spent many years on various teams in the Connecticut Soccer League.
Through 2007, he registered 212,175 singles, 170,200 handicap and 88,550 doubles targets. He died at age 77 in 2010, with more than 400 ATA friends and associates attending his wake.