Hall of Fame Inductee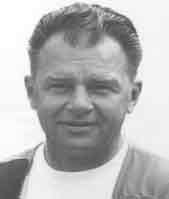 Dan Orlich
Inducted in 1979
Born: 21-Dec-1924
Died: 18-Jan-2019
State: NV
From 1956 to 1971 Dan Orlich, former Green Bay Packer, captured 37 major trophies at the Grand American, including 13 major championships. He led the Introductory Singles in 1966, the Class Championships in 1959, the Clay Target in 1956 and 1970, the Champion of Champions from 1961 to 1963 and in 1971, the Zone Champion of Champions in 1962, 1965 and 1968, the All-Around in 1956, and the High-Over-All in 1966.
Along the way he racked up the record of 21 200 straights at the Grand American. He tied the record of 19 in 1972's Dayton Homecoming, and he set a new mark two days later with a perfect score in the Class Singles. The following year a 200 in the Dayton Homecoming placed him two over his nearest competitor.
Dan Orlich is also the current record holder on singles averages, with his .9982 in 1968 remaining an all-time high. He also holds the record for the highest singles average entered on 100,000—.98826— with the 100,000th being fired at in 1974.
Just in 1978 was his record of straights from the 27-yard line surpassed. Dan Orlich was the second in history to accomplish the feat, on July 30, 1964, just 11 days after the initial one. From then until May 11, 1968 he totaled six of them. That was two years before any other had two.
In doubles, Dan Orlich was the first in history to break 100 three, four and five times. That was in 1958, 1961 and 1964. He has six of them to his credit. (His record of five was matched in 1966 but not surpassed until 1970.)
Orlich still is co-holder of a shootoff record at the Grand, with his 1961 Champion of Champions title being a co-championship after he and George Snellenberger broke 100 straight and then ran another 500 extras. He also co-holds an all-around record. In 1958, he broke 399x400 of the championship targets at the Sahara Fall shoot to set an all-around record, which was tied by Dan Bonillas in 1975 and 1979 but which has not been surpassed.
Dan Orlich held the handicap long-run record from 1967 to 1973, with 193.
Among his accomplishments, Orlich also counts the most consecutive Champion of Champions titles.
Nevada State championships number 25—10 in singles, three in handicap, five in doubles and seven in the all-around. He has earned 10 Western Zone ATA championships—three singles, two handicap, one doubles and four all-around.
In Golden West Grand competition, Orlich won the singles championship twice, the doubles three times and the all-around six times, and he holds a record for the most high-over-alls there—eight.
Orlich was a member of the first squad to break 500x500. The scene was the 1959 Grand American, and other squad members were Bill Harrison, Maynard Henry, Herman Peterson and Zip Eaton. The record was tied in 1962, twice in 1972 and once in 1978.
Dan Orlich placed on men's All-America teams every year from 1954 to 1973, being on the second team that initial year and then on the first team for 19 years, with five of those years as captain or co-captain. Trap and Field All-Around Average awards were earned by Orlich in 1959, 1961, 1962, 1965, 1966 and 1967, with his leading the field those first two years. He later became a columnist for the magazine, and a book of those columns was published in 1977.
Dan Orlich led ATA singles averages in 1957, 1958, 1959 and 1960 in addition to his record-setting year of 1968, and he headed doubles averages in 1959 and 1961.
Dan Orlich was chosen as Nevada Athlete of the Year in 1957 and presented with his award by the lieutenant governor of the state. A native of Minnesota, Orlich went to Nevada as a student at the University of Nevada at Reno and then returned there to live after his three-year stint as an end with the Green Bay Packers.
He served as delegate to the ATA from Nevada for 15 years and was on the handicapping committee for shoots throughout the Southwest for that same period of time.