Hall of Fame Inductee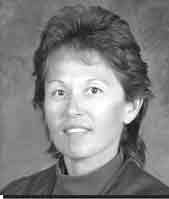 Deborah Ann Ohye
Inducted in 2005
New Jersey resident Deborah Ohye is proof substantial that shooting ability can indeed be inherited. Her dad, Kay, is a 1995 Hall of Fame Enshrinee. Debbie and her father are the only daughter and father to be inducted into this select group.

She started registered shooting in 1981 and six years later won her first of 77 Grand American trophies.
Debbie is the first woman to complete the ATA Grand Slam and she considers it her most memorable accomplishment. She broke her first 100 straight in doubles during the 1996 Ohio State Shoot and 100 straight from 27 yards at the 1994 Western Grand.
Her category wins at the Grand American are nothing short of amazing and include: three Clay Target Championships (all with 200x200), five Doubles Championships, four Ail-Around titles (a record of 394x400 in 1998) and five High-Over-All wins (a record of 975x1000 in 2003). Additionally, she has won the Dayton Homecoming, Champion of Champions and the Grand American Handicap. In 2000 during Thursday's prelim-doubles, she beat the field with a perfect 100.
Debbie has accounted for 66 category wins during ATA Satellite Grands. At the 1997 Southern Grand she beat the field to win the doubles title with 100.
In addition to her four women's crowns in Eastern Zone competition, she won back-to-back doubles titles over the field in 2001 and '02. Her all-around at the '04 zone shoot also led all shooters.

Ohye has won the New Jersey state women's title in 15 of the last 17 years and beat all competition to win the doubles and all-around crown in 2001.
She has been on every All-American team since 1988 and named captain seven times.