Hall of Fame Inductee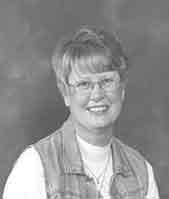 Lou Ann Munson
Inducted in 2001
Just three years after registering her first targets in 1971, Lou Ann Munson was making a name for herself in the big leagues. She captured women's runnerup laurels in the 1974 Grand American Handicap for 98 from 21.5, and she earned sixth place in the record field of 3,932 after an eight-way, four-round shootoff for the third- through 10th-place spots.

These were just the first of 47 Grand trophies she has accumulated over the course of her trapshooting career. She's also won 73 awards in Satellite Grand competition plus six Central Zone and nine Minnesota state championships.
Lou Ann placed consecutively on 27 All-American teams from 1975 to 2001, captaining two of them and being co-captain twice.
She posted her first 200 straight in singles in 1984, and she has carded eight such scores to date. She downed 100 straight doubles for the first time at the 1997 Southern Grand, and she has repeated the feat twice since. Three of her 200s were entered at the Grand American.
Lou Ann claimed the women's doubles championship at the 1977 Grand, as well as ladies' A laurels in the class twins. She earned women's runnerup honors in the Clay Target Championship and was a member of the winning Minnesota fivesome in the State Team Race.
She repeated as women's A victor in the Class Doubles the following year, and she headed women in the ATA prelim International contest.
In 1979, Lou Ann won the women's championship in the Vandalia Handicap, and she pocketed the ladies' prize in Preliminary Friday's doubles race.
She earned three women's awards in 1981: first place in Preliminary Friday's singles and doubles, plus third place in the Champion of Champions race.
In '82, she led ladies in the Class Doubles, was runnerup in the Clay Target Championship, and placed third in the class 16s.
She repeated as women's third-place finisher in the '83 Class Singles, and she headed ladies in prelim Saturday's 16s.
Lou Ann captured two women's championships in 1984. She smashed 200 in the Dayton Homecoming, and she tallied 947x1,000 to head category standings in the High-Over-All.
She claimed her second ladies' doubles championship in 1985, along with two prizes in preliminary competition.
She picked up another pair of prelim-day awards in '87, and she earned women's runner-up recognition in the Class Singles race.
In 1988, Lou Ann set two category records while claiming the women's All-Around and High-Over-All championships for 390x400 and 960x1,000, respectively. She also won ladies' third-place laurels in the class 16s.
She posted a perfect century to head women in Preliminary Friday's singles at the 1989 Grand, and her 198 in the Clay Target Championship contributed to the victory of the Minnesota squad in the state team contest.
In 1990, Lou Ann picked up the first of three consecutive women's Preliminary High-Over-All trophies, setting a category record of 1,055x1,100 in the process. She also earned ladies' laurels in Saturday's preliminary yardage race that year.
Contributing to her '91 prelim HOA victory were women's high-gun honors in Thursday's singles and handicap races, the latter for a 99 from the back fence.
She connected with 98 from 27 the next year in Preliminary Friday's yardage contest, becoming the first woman to win five handicap trophies from the back fence at the Grand.
Lou Ann collected five women's awards at the 1993 tournament, including first-place honors in Preliminary Friday's singles for a perfect century, prelim Saturday's doubles for 99 and the Dayton Homecoming for 200 straight. She won category zone laurels in the Clay Target Championship and runnerup honors in the President's Handicap.
From 1994 to 1997, she captured top women's honors in one race each year. She was victorious in Preliminary Saturday's doubles in '94, the Vandalia Handicap in '95, Preliminary Thursday's handicap in '96 and prelim Thursday's doubles for a perfect century in '97.
Lou Ann has amassed 45 trophies in Spring Grand competition, including 12 women's titles in championship events. She captured the singles crown, her first, for 197 in 1979, and she reclaimed the 16-yard championship with lone 200 straights in 1989 and 2000. She was handicap victor in 1995, doubles titlist in 1990, '92 and '97, and all-around champion in '82, '84, '85, '90 and '91.
She has eight Southern Grand trophies in her possession, including the 1983 women's twin-bird crown. She captured back-to-back category singles titles in 1999 and 2000, and she was also doubles champion at the 2000 tournament.
Lou Ann has pocketed another eight prizes in Great Lakes Grand competition, including the 1992 women's all-around crown.
She has collected five women's prizes at the Midwestern Grand, beginning with the singles championship in 1984. She reclaimed the 16-yard title a decade later and won the all-around championship that year as well. In the past two years, she has picked up three ladies' prizes in Southwestern Grand competition.
Lou Ann secured three women's awards at the 1992 Western Grand, including the singles championship, and she earned a handicap prize at the '94 tournament.
Between 1983 and 1996, she collected 26 trophies in Golden West Grand competition. In '83, she captured the women's singles, doubles and all-around championships. She reclaimed the twin-bird title in '86 and '87, adding the singles crown to her winnings the latter year.
She smashed 200 to repeat as ladies' 16-yard champion in 1989, and she was victorious in the '91 feature singles as well. She won women's honors in the Doubles Championship in 1994, headed category all-around standings in '95, and was ladies' victor in the main handicap in '96.
Lou Ann won the women's Central Zone singles championship in 1992 and '93. She was ladies' singles and twin-bird titlist in '96 and handicap and doubles champion in '99.
At Minnesota state, she won women's runnerup laurels in the Singles Championship in 1973. She was ladies' 16-yard titlist eight times between 1976 and '99. Her 198 in 1977 bettered the former category record by one, and she broke her own record with a 199 in '81. She entered another 199 for the victory in '89.
She became the 11th woman in ATA history to reach the 27-yard line at the Minneapolis (Minn.) GC on May 1, 1977.
Lou Ann earned All-American recognition for the first time in 1975. She was a member of the women's second team that year and again in '76, then achieved first-team placement in 1977, where she remained through 1995. She was named team captain in 1980 and '89 and was co-captain in '85 and '94. She was a member of the second team in 1996 and has achieved first-team status every year since.
She has earned two Trap & Field All-Around Average Awards, placing second among women in 1977 for .9070 and in 1979 for .9135.
Lou Ann was inducted into the Minnesota Hall of Fame in 1988, and she served as president of the state trapshooting association during 1988-89.
At the end of the 2000 target year, she had registered 165,300 singles, 150,150 handicap and 84,250 doubles targets.