Hall of Fame Inductee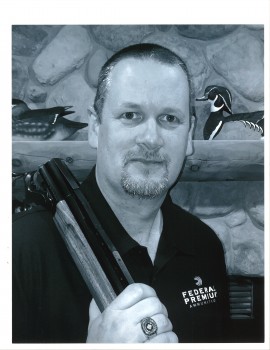 Eric R. Munson
Inducted in 2016
As the son of multiple-time All-Americans Bob and Lou Ann, Eric Munson of Cokato, Minnesota, has been around trapshooting all his life. This year they become the first family to have three members enshrined in the Trapshooting Hall of Fame (the parents were inducted in 2001).
Eric began practicing around the age of 10, and he started registering targets in 1981. Two years later, he captured his first Grand American trophies: he won the sub-junior Singles Class Championship, and he and Bob claimed the first of an eventual six Parent-Child titles. At age 14, Eric was then the second-youngest to be part of a winning Parent-Child duo at the Grand. For the 1999 title, they tied the perfect 400x400 record and then smashed 50 straight in shootoff.
Eric has collected nearly 50 trophies at the Grand, including four championship rings for the 2002, 2004 and 2007 Doubles plus the 2007 All-Around. He has a total of 22 twin-bird 100s and 11 200s in singles at Vandalia and Sparta.
The 19-time All-American was named to the junior squad in 1985, and he earned spots on that team the following two years. In 1999 he landed his first men's berth, and he has been on that team 15 more times. He and Bob were members of the men's squad nine times between 1999 and 2010, and they along with Lou Ann have been All-Americans in the same year 16 times. Eric earned his AA-27-AA pin in 1994, making the Munsons one of a handful of families with three members who have attained that distinction.
Eric's additional doubles titles include two at the Southwestern Grand (2003, 2004), two ATA Central Zone (1994, 2004) and seven Minnesota between 1991 and 2011. All but one of the state crowns were won with 100s; he is second only to Leo Harrison III in number of state titles earned with perfect centuries, and he is the first to win four straight with 100. Eric also has two singles, two all-around and two junior singles titles in Minnesota plus one junior championship from Central Zone.
He has taken nearly 60 trophies from Great Lakes, Heartland, Midwestern/Southwestern and Spring Grand tournaments. At the Southwestern, including his two championships, he's earned 16 doubles awards following 100 straight. In 2012 he was runnerup in the Heartland Doubles Championship, and last year he claimed top honors in the tournament's class twins. He was junior doubles champion at the 1987 Spring Grand.
Among his other major Grand wins are the 1986 junior Doubles title, the 2002 Dayton Homecoming championship, AAA in the 2004 Doubles Class Championship following a 100, and third in the 2010 Clay Target Championship after 200 and nine extra rounds.
Munson was the ATA's doubles average leader in 2004 with .9926, third on the all-time list. Three times he entered singles season averages of 99%+. He earned Trap & Field All-Around Average Awards in 2003 and 2004 with 97%+ averages and hit that plateau four other times.
He completed his ATA Grand Slam in 2007, with 100 from 27 at Missouri state. As of May 2016, he had registered totals of over 120,000 singles, 110,000 handicap and 68,000 doubles.