Hall of Fame Inductee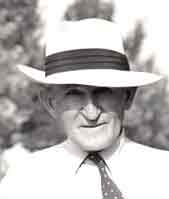 William (Bill) Moore
Inducted in 2005
Born: 23-Feb-1867
Died: 5-Dec-1957
Age: 90
State: MO
Bill Moore was the dean of trapshooting writers in America for over 50 years. The congenial gentleman from Tennessee started covering shoots in 1897 and never stopped until bad health forced his retirement at age 86 in 1953. He wrote for the Sportsmen's Review (Trap & Field predecessor) and was the magazine's editor from 1923 to 1953.
In 1884, at 17, he started working as a railroad telegrapher with Western Union. He worked in Memphis, Nashville, Little Rock, Denison, Dallas and New Orleans before settling in Kansas City in 1893. By this time, he was a nationally recognized expert and among the first to use a typewriter in connection with telegraphy. While living in Kansas City, he became interested in trapshooting and joined the Kansas City Trapshooting Association. He became a telegrapher for the Kansas City Star in 1896 and a year later began his long association writing for the Sportsmen's Review.
Bill Moore's writing style was unique. He wrote the way he spoke, plainly and concisely. His memory for names was legendary. Moore covered 41 Grand Americans and virtually every major tournament in America for Sportsmen's Review.
Ben J. Field, a longtime Sportsmen's Review contributor and friend of Moore, wrote of his retirement, "In 1897 at Elliott's Shooting Park in Kansas City, he proved his talents lay with pad and pencil, to out-perform gun and shell when used on trapped pigeons and clay targets."
When he died in December 1957, he was remembered as "The most widely known and one of the best informed authorities on trapshooting. His acquaintanceship was wide and his prodigious memory made him a veritable walking encyclopedia of facts and records."