Hall of Fame Inductee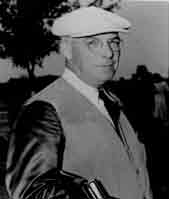 Clyde Mitchell
Inducted in 1996
Born: 27-Feb-1905
Died: 12-Feb-1963
Age: 78
State: WI
Clyde Mitchell grew up with an appreciation of the outdoors by helping dad Charles run a north woods hunting camp. (Charles was on the last U. S. flyer team to shoot in Cuba for the World Championships.) Representing Remington Arms Clyde began his career in Wisconsin where he won his first industry award in 1918, made a clean sweep of all industry championships at the 1921 state shoot, and headed the singles and All-Around in 1922. He is enshrined in the Wisconsin State Hall of Fame.
Mitchell started making his mark at the Grand American in 1928 where he broke 186x200 to earn his first of four industry doubles titles. He snared the others in 1937 with 98, four birds above his nearest competition and tying amateur champ Ned Lilly; in 1941 for 92 plus shootoff; and 1942 for 94 which matched amateur Rudy Etchen's score.
He captured the industry High-Over-All crown on five occasions. His winning 957x1000 was five targets above the top amateur in 1931. and he headed his category with 848x900 in 1934 and 856x900 in 1935. Clyde's l137x1200 headed totals by six in 1940, and he was victorious the following year with 862x900.
In 1942 he won the pro Clay Target Championship with 196x200, and was runner-up in 1934 and 1940 with that same total. He knotted at 199 for the 1939 crown with Fred Tomlin, and secured the runner-up spot with 24 in Overtime.
Mitchell had a four-bird lead with 590x600 on the 16 yard targets during the 1929 Grand, and he won a tie breaker for the 1931 industry Grand American Handicap award with a 95. In 1931 he also captured the Open Championship with 199 and a shootoff over Joe Hiestand.
He shot on two record squads during the Grand. In 1931 he, Fred Tomlin, Rush Razee, Clyde Wells and Art Killam---a Remington squad set a mark of 497 on 500, and the next year the same five racked up a record of 989x1000.
Clyde was the industry doubles average leader in 1937 with .9317, in 1938 with .9333, and in 1941 with .9485. In 1940 he paced handicap standings with .9112, and in 1948 he was high with .9060. He was among the top 10 industry singles average leaders every year he participated from 1925 to 1948. (He did not shoot from 1943 through 1947.)
He was a member of Sports Afield's All-American industry teams in 1941, 1942, and 1951 (based on 1950 performance). He was also named to the American Trapshooting Association (forerunner of the Amateur Trapshooting Assn.) team in 1921 comprised of the top ten industry and ten amateur shooters based solely on singles averages.
Clyde's sons Robert and Jack also inherited interest in the out of doors. Robert (Bob) went along the lines of fly fishing, while Jack served a long career as director of advertising and sales promotion with Remington followed by a thirteen year stint as columnist for The American Hunter before his death.
Mitchell worked for Remington Arms for 39 years as a field representative and later in management, a job which took him from Wisconsin to Minnesota to Georgia and Connecticut. His last years with the company were in Illinois where he was district manager in the Chicago area until his retirement in 1950. He continued to attend the Grand American after his retirement.
Clyde Mitchell passed away February 12, 1963 at the age 78. Son Bob and four grandchildren survive.