Hall of Fame Inductee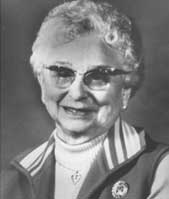 Mary Meadows
Inducted in 1973
Born: 3-Jun-1897
Died: 16-Aug-1994
Age: 97
State: IA
Mary Meadows of Grimes, Iowa, is the only person to have twice won the women's titles in both the Grand American and the Preliminary Handicaps in the same year. In 1936 she became the second woman to win them once, then in 1939 she captured both trophies again to set the record.
Mrs. Meadows did not annex the feminine Preliminary Handicap honors again, but she did pace women in the GAH three more times—1946, 1947 and 1958. In 1935 she and husband Roy placed second in the Husband-Wife race, and they won it the next year.
Her 1936 score in the Preliminary Handicap plus 24 in shootoff earned her the third spot among the men in that race, (One of the ones she defeated in shootoff was Joe Hiestand, who finished fifth.)
Mary Meadows earned the women's veteran 16-yard honors at the Grand six times, in 1950, 1952, 1953, 1954, 1966 and 1971.
In 1947 Mrs. Meadows placed second in the Women's Champion of Champions contest with 99, and in 1955 she was third. During the 1970 Grand American, she became the fourth woman to register 100,000 singles targets.
Eleven Iowa State ATA women's singles championships have been won by Mrs. Meadows. She captured her first in 1937, won again in '39, then lost only two years between 1950 and 1959. Her 11th crown was earned in 1965. Mary captured the ATA Central Zone feminine singles tiara in 1952, 1955 and 1960, and she placed on the women's All-America team nine times between 1949 and 1960.
Mrs. Meadows was one of the first women to be active in the operation of the ATA, serving as Iowa's delegate from 1956 to 1961 and as alternate from 1969 to the present time.