Hall of Fame Inductee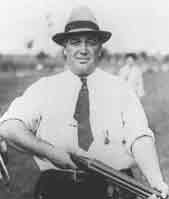 Karl Maust
Inducted in 1980
Born: 20-Oct-1892
Died: 23-Oct-1949
Age: 57
State: MI
Karl Maust's resident titles in Michigan and Ohio reached a total of 25 from 1925 through 1949—10 in singles, seven in doubles and eight in the all-around. He also won two championship races as an amateur at the Grand American, the first in 1931 and the other 10 years later.
Karl Maust won the Clay Target Championship at the 1931 Grand American, with 199 and 150 shootoff birds, and he earned the Champion of Champions crown 10 years later. He also won several class and runnerup trophies from 1927 through 1942, including AA in the CofC in 1928, H-O-A runnerup laurels after a tie for the title in 1931, and 25-yard honors in the 1932 GAH. He also led all scoring on the 500 singles targets at the 1941 Grand with 495. While registering as an industry rep for Western Cartridge Co., Karl Maust received the runnerup industry award in the 1937 Clay Target race, and two years later he headed reps in the Class Championship.
Dominating Michigan's 16-yard and doubles ranks from 1925-35, Maust began with the singles championship in 1925 and followed with 16-yard titles in 1926, 1929, 1931, 1933 and 1934. He also garnered twin-bird honors four times in those years, in addition to runnerup prizes in doubles in 1933 and in singles in '35. The Michigan all-around titles were his in 1926, 1929, 1933, 1934 and 1935. After moving to Ohio, he won that state's doubles crown in 1940, the same year he finished runnerup to Joe Hiestand in the all-around after shootoff. Karl Maust was Ohio's singles and all-around champ in 1941 and 1942, and he included the doubles crown that latter year. He was doubles runnerup in 1941 and finished third in doubles and second in the all-around in 1943. He returned to Michigan to earn the singles, doubles and all-around titles at the 1948 state shoot, and he retained the singles award the following year.
Karl Maust was chosen for the first-team All-America honors in 1931 and 1941, and he was named to the second team in 1948. He registered 62,100 singles targets during his career. Maust, who became a life ATA member three years after the association's inception in 1923, passed away in October of 1949.