Hall of Fame Inductee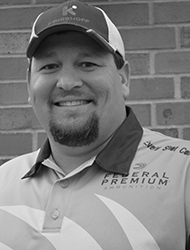 Richard Marshall Jr.
Inducted in 2015
As a winner of Grand American championship events, Rick Marshall of Lincoln, Nebraska, has earned four Grand rings, his first for the 2000 Doubles Championship. Rain and lightning interrupted the nine-way tie-breaker, and it was held over to the next day. About an hour after the shootoff concluded, Rick received a phone call that son Tre had been born. That year Rick also was runnerup in the Clay Target Championship for the first of four times to date.
In 2006 he was All-Around and High-Over-All champion, and two years later he captured the Doubles title again.
During the 2005 Grand, the final one held in Vandalia, Ohio, Marshall accomplished the tremendous feat of running the first 700 targets of Grand Week. He broke 200 in the Singles Class Championship, 100 each in Tuesday's Class Doubles and President's Handicap, 200 in the Clay Target Championship, and then 100 in the Doubles Championship before missing the first target in Thursday's handicap. The 100 from the 27 on Tuesday completed his Grand American Grand Slam.
That year was also the one he was presenting mentor and friend Frank Hoppe for induction into the Trapshooting Hall of Fame. He credits enshrinees Hoppe, Leo Harrison III and Britt Robinson plus numerous other accomplished shooters he watched and learned from over the years with helping advance his game.
Marshall collected his first Grand title, the sub-junior Doubles, in 1988. His initial Grand victory over the field came in 1996, when he won Preliminary Saturday's handicap. He has claimed eight more top trophies during Preliminary-Week events, while his additional Grand-Week top awards include the Parliament Coach Handicap and White Flyer 2,200 in 2006 plus the Preliminary Handicap last year with 100 straight.
Through the 2015 target year, Marshall has earned 50 titles from eight of the ATA's 10 Satellite Grands: six Autumn, eight Dixie, seven Great Lakes, two Northeastern, six Southern, 12 Southwestern, five Spring and four Western. At the 2013 Western tournament, he won the all-around with a perfect 400x400.
A member of the men's All-American team every year since 1997 (all but one first-team selections), Marshall was captain in 2001 and 2002. He has been named to 24 teams total, including two sub-junior and three junior.
Since 2001 he's entered singles averages of 99% or higher 11 times, with his top mark a .9965 in the 2013 season. Nine TRAP & FIELD All-Around Average Awards have gone to him between 2000 and 2014.
His first 100 from the 27 was in June 1998, the same day he was inducted into the Nebraska trapshooting Hall of Fame, and completed his ATA Grand Slam. To date he has posted 25 perfect centuries from the back fence, ranking sixth on the career leaders' list. He has more than 160 doubles 100 straights to his credit.
Marshall is a trapshooting instructor and a promoter of youth shooting. The only shooter to win the Cornhusker Cup at the Nebraska youth tournament three years in a row, Rick is now on the shoot's marketing committee, believing it is important to attract more youth to the sport.