Hall of Fame Inductee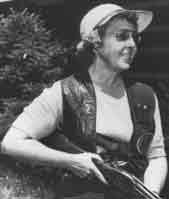 Dorothy Marker
Inducted in 1977
Born: 11-Sep-1902
Died: 10-Oct-1981
Age: 79
State: OH
Dorothy Marker registered her first singles target in 1939. On May 26, 1962 she pulled the trigger on her 100,000th and became the first women in ATA history to achieve that goal. Upon retirement in 1969 she had accumulated 133,400 singles targets, augmented with 13 state titles and over twice that many Grand American awards.

In that initial year of registering, she participated in her first of 28 Grands and secured the GAH yardage trophy for then-minimum 16-yarders. She and her late husband, Van, won the Husband-and-Wife trophy the following year and again in 1944, while placing among the top four couples in 1942, 1943 and 1945. Also in 1944. Mrs. Marker was the Grand American Handicap Women's Champion and shared second feminine spot in the Preliminary Handicap. The GAH women's trophy was again hers in 1945.
Dorothy Marker claimed the Women North American Clay Target Championship in 1961 in a shootoff after 198. and four years later a 196 gave her the women's title and also the veteran's trophy over all the men in that age-group in the CTC. Runnerup laurels in the Women's Champion of Champions races were Mrs. Marker's in 1959 and 1964.
Mrs. Marker placed second in women's H-O-A standings at the 1961 Grand, with just one less than the winner. Again one behind the leader, she secured the runnerup femme prize in the Doubles Championship at the 1963 Grand.
Dorothy Marker won a succession of veteran women's trophies during Grand competition, her first with 100 straight in 1957. Hall of Fame enshrinee Homer Clark took the men's vet award there with one less. The same situation occurred in l960 with the same scores. Except this time it was men's winner Adolph Nelson who had one less. The veteran women's trophy was again hers in 1963. 1964 and 1968. She earned women's crowns in the Introductory Singles in 1963 and 1965 and was second in 1960 with 198 and the following year with two less.
Her women's state singles titles were earned in Illinois in 1942, 1944, 1945, 1947, and 1948, and later in residence at Ohio in 1957, 1958, 1959, 1961. 1962, 1963, 1964. and 1965. Mrs. Marker consistently ranked high among women's yearly singles averages, topping the list in 1944 and finishing first in handicap in 1945.
Dorothy Marker registered the most singles targets among women for three consecutive years, from 1960 to 1962, totaling 30,650 in that time. She had also registered the most in 1958—7,400.
Mrs. Marker, a resident of Mount Dora, Fla. at the time of her induction, was women's All-America captain in 1962 and was selected a member of the first team in 1958, 1960,1961, 1963, 1964, 1965 and 1966. She was a member of the second team in 1953, 1957, 1959 and 1967.
In 1961 Dorothy Marker and husband Van set a record for husbands and wives when they broke 100 straight apiece in the same event at the Grand American. It was the first time in history that a husband and wife had had perfect scores together at the Grand, and it remains the initial time in memory of early statisticians that the feat had been accomplished on any grounds.
At the time, the two had shot over 200.000 targets together.