Hall of Fame Inductee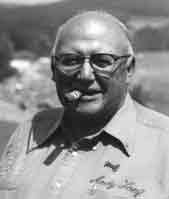 Andrew Long
Inducted in 1982
Born: 24-Feb-1907
Died: 28-Sep-1996
Age: 89
State: PA
Andrew C. Long of Shamokin, Pa. was on the Executive Committee of the ATA when the Hall of Fame was being established and dedicated, succeeding to the presidency of the ATA in 1972, three years after the Hall of Fame became a reality. A familiar figure to many at the Grand American for a number of years, Long manned the payoff window for numerous years and also worked inside the Grand office operation. For 28 consecutive years, Long served as secretary of the Pennsylvania State Sportsman's Association, and he was a driving force of the association as the Valley Gun and Country Club became the Pennsylvania homegrounds and through various expansions that resulted in the largest facility in the ATA, other than that at Vandalia, at that time
Long captured his initial Grand American award in 1959, finishing fourth in AA of the Class Singles Championship following a tie at 200. Another 200 and two shootoff rounds won Class A honors for him in that race two years later, and in 1960 he shot as part of the winning Pennsylvania team in the State Team Race.
Long's first state championship was the doubles, which he captured in 1936. He repeated as twin-bird champion in 1942 and 1946, annexing the all-around that latter year and again in 1948. In 1951 he was handicap champion.
Long has earned 14 age-group titles at the Grand American. He captured All-Around championships twice (in 1972 over veterans and in 1978 over senior veterans), and he won the veteran High-Over-All in 1975, having finished as runner-up in that category and race the year before. He was the senior veteran victor in the Clay Target Championship in 1978 and in the Doubles Championship the following year. In the Class Singles Championship he led veterans in Class AA with 199 in 1975, paced senior veterans in that class in 1979 and ended third among senior veterans in 1980. He was veteran B titlist in the Class Doubles in 1974, and he paced veterans in the 1975 Vandalia Handicap. In 1972's Preliminary Saturday singles, Long's 100 straight led veterans, and he finished first among senior veterans in that contest seven years later. Andy annexed veteran laurels in the 1972 Dayton Homecoming.
Long secured his state's ATA veteran singles title in 1978, and two years later he earned the ATA trophy in that category at Eastern Zone.
Co-captain of the veteran All-America team in 1976, Andy Long was named captain in 1977. He was also selected for the veteran team in 1973, 1975, 1978 and 1979 and for the senior veteran team in 1982. At the end of the 1981 target year, Long had registered 112,725 singles targets.