Hall of Fame Inductee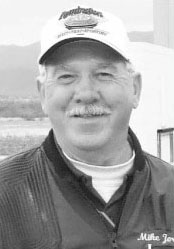 Mike Jordan
Inducted in 2012
Born: 31-Jan-1940

State: IL


Growing up in Illinois hunting a lot of birds, quail and waterfowl, Mike Jordan started shooting clay targets to hone his hunting skills. He started shooting in leagues, and as he got better, someone suggested registered targets, so he joined the ATA in 1967.
In Grand American competition, Jordan has won 22 industry titles in the "ring" events, including six each in the All-Around and HOA, three each in the Grand American Handicap and Clay Target Championship, and four Doubles. He has also earned veteran championships in the Doubles and HOA plus senior vet crowns in the Clay Target and HOA. Mike has numerous industry and age-group Satellite Grand titles in addition to the 1985 singles and 1987 all-around crowns over the field at the Dixie Grand and topping all competitors in the 2010 Spring Grand Singles Championship as a senior vet.
He has the 2010 Central Zone senior vet championship plus IL state crowns in his trophy collection.
Jordan has earned spots on All-American teams 19 times, including the I987 men's first team, five men's second team placements, seven industry, four veteran first and two senior vet first. He was captain of the industry team every year he was on it, and he was captain of the 2011 senior vet team. He earned a men's honorable mention in 1973.
Collecting seven TRAP & FIELD All-Around Average Awards, Jordan claimed veteran honors in 2006 and industry mentions every year from 1991 to 1996. He completed his ATA Grand Slam in June 1985 with 100 from the 27. He remembers making the cover of T&F for the first time in I970 for a win at Silver Dollar.
In 1967 Jordan started working for Olin Corp. as a development engineer. "It was hard in those days," Jordan said. "I couldn't practice until I got off work. We'd drive 45 minutes to a gun club to shoot practice, so we could only get a couple of rounds in. The group of guys I shot with enjoyed the old shoots where you'd compete for guns. That was fun for us."
While working at Winchester, Jordan helped develop various shotshell products, including pigeon, handicap, and .410 loads. "I enjoyed working with the products and the end use of the products," Jordan said.
Mike traveled and shot all over the country, noting that he especially liked shooting out west and counted the Golden West Grand as one of his favorite shoots. He got hooked on shooting in Phoenix after experiencing success on his first trip there in 1970. "I got off the airplane and went to the club still in my street clothes. The Winchester guy was there, and I said, 'Where is the rest of the squad?' He said, 'You're it.' I was the last man, last squad. I tied in the handicap and broke 200 the next day."
His vast awards collection includes two cars from Missouri and Iowa shoots in 1979. "I think it would be a lot of fun if clubs would give away a golf cart today," Jordan said.
Mike has seen many changes over the years. "People are doing a better job of getting the gun to shoot where they are looking," he said. "Getting the recoil out is a huge thing. A lot of guys my age flinch due to the recoil." Mike has shot a release trigger since 1969.
He now shoots a Silver Seitz single-barrel trap and uses Remington Light 8s and heavy 7 1/2s for handicap. He wears a green shirt on the line as an employee of Remington.
Jordan's wife of 35 years, Michele, was always supportive of his shooting. "She said you can go shoot as long as you win." Mike said. 'That was our little joke." She passed away in 2000.
"One of the most memorable things about shooting is that I got my son Tyler involved when he was nine. We shared a lot. It worked out well. We shot together for I0 to I2 years. I don't think I would have had that time with him had we done something else besides being in the sport. We enjoyed that." Tyler now works as a ballistics lab manager for RUAG in Florida.
Jordan also participated in flyer shooting. He took part in a couple of World Championships in Mexico plus the 1981 and 1983 World Championships in Spain and Italy, winning the Cup in '81.
Mike likes to fish and play golf. He has hunted throughout the U.S. and Canada but doesn't do it as much as he once did.
His advice to other shooters is to get help with setting up their guns and dealing with recoil. He also recommends being careful about who they take advice from. "I told my son when he started shooting, 'If somebody offers you some information, say thank you, appreciate it, but don't do anything other than what I say- except if Leo ever says anything to you, do exactly what he says and disregard what I said.' "
Jordan considers AIM to be one of the sport's most successful programs. "It's gone a long way in getting kids involved. These teams are a success. The adults are taking their time and efforts to work with them. It's selfless of them, and it's a good program.
"I've done a lot and enjoy the friends I've made in this sport," Jordan continued. "When my golf scores and trap scores hit dead level, I'm going to get into fishing. That's not too far off," he joked.
Jordan considers the lifelong friends he's made in the sport to be one of the best parts of trapshooting. "I still hang out with people I met in I968," he said.
"Anybody can do this sport if you want to put the time and effort into it," he said. "You can do it at any level you want. It's a family sport. It gave me an opportunity to spend more time with my son. It's been a good sport, and it fit in with my work."