Hall of Fame Inductee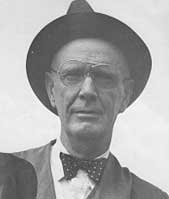 Roscoe C. (Rock) Jenkins
Inducted in 1978
Born: 21-Jun-1889
Died: 26-Feb-1962
Age: 72
State: IN
From 1926, the year he first registered targets, to the time of his death in 1957, R. C. (Rock) Jenkins concerned himself not only with participation in the sport itself, but also with the responsibility of keeping the ATA a strong, viable organization during some difficult times. Mr. Jenkins was president of the Amateur Trapshooting Association in 1937 and 1938, and in 1936 he served a term as vice president. He was a pillar of the Indiana State trapshooters' association, having held the presidency and numerous other offices throughout his career as a shooter.
Rock Jenkins was the first to register 150,000 16-yard targets, in 1951. He led in the number of singles targets registered in 1930, 1931, 1933 and 1934, averaging almost 10,000 a year. His goal in the sport was to be the initial ATA member to accomplish the 200,000 mark, and he had reached 186,000 at the time of his death. His brother then carried out the ambition Rock had set out to fulfill.
Rock Jenkins obtained his initial office in the sport in 1928, as delegate to the state association. The next year he was elected ATA delegate. In 1930 he was elected president of the Indiana association, served for two terms, then was voted ATA delegate again in 1932 and 1933.
That latter year he was instrumental in keeping Sportsmen's Review, the predecessor of Trap and Field, alive. He proposed a motion to contribute funds for the editor's salary, which was passed by the Indiana association. Through Rock Jenkins' concern the ATA became involved with the movement, took over the responsibility, and kept the publication in print during the Depression years.
Rock Jenkins remained ATA delegate in 1934 and was re-elected president of the state TA that year and the following year. He developed the plan of assessing each shooter .50 cents per shoot to go to the state treasury, which was implemented in 1935.
Following his terms as president of the Amateur Trapshooting Association, he served as alternate delegate in '40 '41, '43 and '47. Three years before his death, he held the position of state vice president.
Rock Jenkins and his brother were personally responsible for starting many new shooters in the sport, and they both were constant contributors of trophies at numerous shoots, which also helped swell the ranks of participants.
As a competitor Mr. Jenkins captured the Indiana State doubles crowns in 1931 and 1935, was runnerup in that race in 1939, and was runnerup in the all-around in 1935.
He and his brother ran one of the most famous gun clubs in the country, Jenkins Bros. at Orleans, IN, where the top shooters of the ATA participated annually. Rock Jenkins served also as high chief of the Okoboji Indians for many years.