Hall of Fame Inductee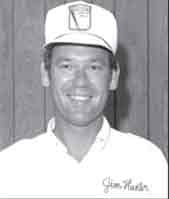 James W. Hunter
Inducted in 2008
Nevada youngster Jim W. Hunter made his mark in the sport early. He began registering targets in 1957, and in 1958, at 11 years old, he broke 100 in handicap at the Oregon State Shoot. Four years later, he became the second junior in history, and the youngest, to earn his way to the 27-yard line.

While still a junior, Jim captured men's trophies in California's 196l out-state singles and doubles, the out-state Oregon high-over-all in 1963, and the Canadian Championship open singles and all-around, also in 1963. From 1958 to 1963 he also won four Nevada state junior championships.

Between 1959 and 1983, Jim Hunter placed on 21 All-America teams, including 15 times on the industry team, four on the junior team, and two in the sub-juniors. He captained every industry team from 1978 to 1981 and was co-captain of the juniors in 1974.

In Grand American competition Hunter collected 52 trophies, including four junior awards in 1963. That year he triumphed over juniors in the Champion of Champions and the Dayton Homecoming races. He also was runnerup in his age group in the Clay Target Championship and earned junior AA honors in the Class Singles.

From 1971 to 1980 Jim competed in the industry category at Vandalia, in that first year winning Dayton Homecoming with 200, placing third in the Class Singles, and was prelim Sunday's handicap champ. The next year he won the Doubles Class championship and was runnerup in the H-O-A. Championship trophies included the 1979 Doubles crown and the 1977, 1978 and 1980 All-Around titles. Tying for the All-Around championship in 1979 Hunter ended runnerup after a coin flip. Starting in 1977 he collected four consecutive High-Over-All championships. Also in 1977 he was second in the Grand American Handicap, and in 1978 and 1980 was runnerup in the Clay Target.

Other main handicap championships were the 1975 Ohio, the 1979 President's , the 1979 and 1980 Preliminary, and the 1980 Vandalia after a tie and forfeit. Hunter's Grand American preliminary-event crowns in his category included eight singles, eight handicap and five doubles from 1971 to 1980. In 1980 he won seven out of the eight prelim races. In Doubles Class competition during Grand week, he was champion twice, runnerup once, and third once.

At the 1982 Spring Grand, Hunter won industry singles, doubles and all-around titles, and also secured the industry doubles crown at the Southern Grand that same year. He also collected numerous trophies from Florida, Pennsylvania, Indiana, Ohio, Michigan and in Western states and Canada. While a sub-junior and junior, Jim won 13 trophies at Golden West Grands from 1959 to 1963. He captured three championships in singles, five in handicap, three in doubles and two all-arounds.

Jim led industry doubles averages in 1974 and handicap averages in 1975, 1979, and 1980. He also earned a TRAP & FIELD All- Around Average award in 1979. While an industry rep, Jim lived in California, Indiana and Missouri before returning to Nevada.