Hall of Fame Inductee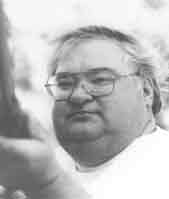 Leo Harrison 3rd
Inducted in 1998
Born: 15-Jun-1957
Died: 22-Aug-2013
Age: 56
State: MO
Leo Harrison III first shot in 1968 at age 10. He started as a trapboy at the Mississippi Valley GC in his hometown of Hannibal, Mo., in early spring, and by summertime he was shooting.
Harrison comes from a shooting family. As a combat pistol shooter, his dad won national championships in bench-rest competition, and he held some national records. Grandfather Leo Sr., who still runs the gun club, got his grandson started in the sport and was his coach at the beginning. "If it weren't for him, I wouldn't he shooting," stated Leo.
Just four years after he began shooting, Leo captured the first of his 35 state titles and 110 Grand American trophies, and he began his string of 26 consecutive times on All-American teams.
Leo attended the Grand for the first time in 1969, and in 1972 he netted the men's and junior A awards in the Class Doubles for 98 plus runnerup honors in the junior Champion of Champions race with 99 and 74 in carryover.
Leo snared 18 Grand HOA trophies between 1973 and '96. He won the first of his record nine championships in '80, and he collected four in a row beginning in '93. His 991x1,000 in '90 set a record by five birds. In addition to his men's crowns, Leo was the junior titlist in '73, earned runnerup honors five times, placed third twice, and was the Class AA winner once.
Harrison captured the All-Around championship in 1978 and annexed additional titles in '86, '92 and '93. He was also runnerup four times.
Leo collected numerous trophies in other championship races. He finished second in the 1993 and '94 Grand American Handicaps, both for 99s.
Leo won the first of his 12 Clay Target awards in 1974, the junior title for 198. The rest of his trophies were for 200s. He was runnerup twice and placed third three times. In addition, Leo netted three Class AA prizes, two team trophies and zone CofC laurels.
In the Doubles Championship, Leo was the junior titlist in 1973 and '74, both for 96. He was the event champion in '78, '89 and '91 plus the '92 runnerup, all for 100. He also took home two Class AA prizes.
In Class Singles competition, Leo posted 200s to capture the AA championships in 1984 and '90, class runnerup honors three times and third place once. In addition, he netted a junior AA award for 199, was a member of the winning State Team, and earned Parent-Child laurels with Leo Sr.
He collected six awards in Class Doubles events, including AA champion in '84 for 100 plus 19 extras. He also earned a junior AA award, placed third and fifth in AA, won zone CofC laurels, and was a member of the winning Southwestern Zone team.
Leo captured the first of his 10 Champion of Champions trophies in 1973, when he was junior runnerup with 100. He finished third in his age group the following year. He was event champion in '84, '91 and '94, all with 100s plus extras. In addition, Leo was runnerup once and came in third four times.
Leo's first 100 in handicap competition at the Grand came in 1990, when he placed second in the Budweiser Handicap after three extra rounds. The next year he won that event with 99 plus a miss-and-out overtime, and he was champion again in '95 with 100 and two overtimes. Leo finished 10th in '96.
His other Grand handicap victories were the 1996 Trap & Field event with a lone 99 and the '83 prelim Saturday yardage race with 98. In addition, Leo placed fourth in the 1980 Ohio Handicap, the first of his 19 handicap trophies. He finished second, third and seventh in Vandalia Handicaps; second, ninth and 12th in President's Handicaps; third and fourth in Trap & Field Handicaps; and runnerup in two prelim Saturday yardage events.
Leo annexed six Dayton Homecoming trophies, all with 200s. He captured the championships in 1976, '78 and '95; runnerup honors in '85 and '91; and Class AA award in '89. He has carded a record 36 200 straights in Grand Americans.
In addition, Leo collected seven prelim singles and doubles awards and four International trophies in Grand American tournaments.
Leo has won more than 70 Satellite and Golden West Grand trophies. His 44 awards at the Spring Grand include nine championships. He captured the 1979 and '88 singles crowns with 200s, and in '92 he set the handicap record of 100. Leo also earned six all-around crowns, including the one in '85 with a new high mark of 398.
At the Midwestern Grand, Leo has collected 16 trophies, including eight titles. He earned two singles, two handicap, one doubles and three all-around crowns between 1979 and '96.
In Southern Grand competition, Leo has netted 11 awards. In '90 he snared the handicap and all-around championships, and he won the doubles the following year. In '92 he annexed his second twin and all around titles.
In addition, Harrison has earned three prizes at the Great Lakes Grand, including the 1991 singles title for 200 plus 100 extras, and five at the Golden West Grand.
At Southwestern Zone tournaments, Leo won the first of his seven championships in 1978, the all-around for 395. Ten years later, he added the HAA for 393 and the doubles for 100. Leo was the '89 singles titlist, and he earned additional singles and twin-bird crowns in 1992. He captured the 16-yard title in 1995, his third for 200.
Leo has amassed a total of 35 Missouri state titles since 1972. That year, at age 14, he tied for the singles championship with 200. Leo broke 74 in shootoff to claim the junior trophy (there was no sub-junior crown), and his perfect score for that title has not been matched. He successfully defended the age-group championship the next three years.
In men's competition, Harrison has earned nine singles, two handicap, seven doubles and 13 all-around championships. He has won the twin-bird and all-around crowns the last four years in a row, including a sweep of all four main titles in 1995. That year he became the only resident to win the handicap championship with 100, and he set the all-around high mark of 397. Last year he matched the doubles record of 100 set in '84 by James D. Overstreet.
In addition to the numerous trophies Harrison earned in Grand, Satellite Grand, zone and Missouri state tournaments, he has collected awards in Illinois, Michigan, Indiana, Nevada, Florida, Arizona, Nebraska, Kentucky, Iowa and Oklahoma.
In 1980 Leo competed in the Australian National Championships. He won the A Grade High-Over-All and the Aggregate High-Over-All awards (one includes skeet and one is on trap targets only).
After being named to the 1972 sub-junior All-American team, Leo was selected as a junior the next three years, serving as co-captain in '74 and captain in '75. Leo's 22 consecutive years on men's teams include three times as captain and four as co-captain.
Leo won the junior Trap & Field All-Around Award in 1974 for .9374. Since 1980, he has finished among the top five men in the nation eight times, including first place in 93 with .9794.
Harrison achieved his Grand Slam (200x200 singles, 100 from 27, 100 doubles) in July of 1979. At the end of the 1997 target year, he had carded 157 200x200s in singles, 14 100s from 27 and 92 100s in doubles.
Leo and wife Karla, along with daughters Laura and Sarah Gordon, live outside Hannibal. Leo works for the family-owned farm machinery dealership with his grandfather and brothers.