Hall of Fame Inductee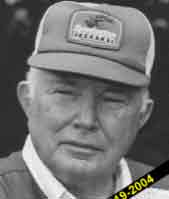 David George
Inducted in 2001
Born: 31-Dec-1918
Died: 27-Mar-2004
Age: 85
State: NY
Twelve-time All-American David George began his shooting career in 1958. As a resident of New York, he captured the handicap titles in 1963 and '66. Five years later he moved to Pennsylvania, becoming runner-up in their Singles Championship in 1972. He earned the state all-around title in '81 and was the HOA victor the following year. In '74, he won two Grand American awards—Class B runner-up in the Clay Target Championship and B High-Over-All honors.
In subsequent Grand Americans, be broke 200 straight twice in both the Class Singles and the Dayton Homecoming, 100 in doubles and 100 in both Champion of Champions race for awards, and he earned 10th place in the Grand American Handicap.
When George was inducted into the Pennsylvania Hall of Fame in 1991, the program read, "Life for David George started at 65." At an age when many are winding down their shooting careers, George was reaching his prime. Between '84 and '96, he amassed nearly 50 Grand American trophies, more than 120 in Satellite Grand shoots, in excess of 60 at Eastern Zone tournaments, and eight state crowns.
George's first Grand American awards as an age-group competitor came in 1984, when his six prizes included veteran champ in the Class Singles with 200, category runner-up in the Clay Target and the 65-69 All-Around crown. The following year, he took home four trophies-age-group runner-up in the class 16s plus top vet honors in the class twins, Dayton Homecoming and High-Over-All.
In 1986 George earned 10th-place and veteran laurels in the Grand American Handicap plus the category All-Around title. In '87 he netted five trophies, including category crowns in the Dayton Homecoming for 200 and the Champion of Champions. George posted another perfect double century the next year, this time for vet runner-up in the Class Singles, and he captured the veteran HOA crown.
George first shot in the 70-and-over category in 1989, and he earned age-group honors in the Class Doubles at that year's Grand American. At the '90 tournament, George collected eight trophies, including senior vet recognition in Preliminary Friday's doubles for 100 and the Clay Target category title. The next year, he captured the category crown in the Dayton Homecoming for 200 plus 25 extras.
In 1992 Grand competition, George finished second among senior vets in the class 16s and twins, and he won the age-group Champion of Champions title with 100. The following year, he took home the top senior vet trophy in the Class Singles.
George's seven Grand trophies in 1994 included the senior vet crowns in the Vandalia Handicap, the All-Around and the High-Over-All for a record 961x1,000.
His last Grand awards came in 1996, when he snared another seven prizes. George finished third in his age group in the Class Singles, and he claimed the senior vet titles in the All-Around, Doubles Championship, Clay Target, state and zone Champion of Champions races plus the Prelim HOA.
George's numerous Satellite Grand trophies include 54 at the Southern Grand. From 1984 through '95, he collected seven category singles titles—four as a veteran and three as a senior vet. George netted four handicap prizes in preliminary competition plus the 70-and-over crown in the 1992 championship. George has also snared eight doubles titles—two veteran and six senior vet—including the one in '91 with a 70-andover record of 98. His '96 age-group prize in the class twins was for a perfect century. In all-around scoring, George earned veteran honors twice and senior vet laurels six times, and he was the 70-and-over HOA victor in 1997, the first year the title was awarded.
At the Northeastern Grand American, George won 30 trophies, 14 of them over the field and 16 in his age group. From 1986 through '88 he netted eight veteran crowns—two singles, one handicap, two doubles and three all-around. As a senior vet, George collected two singles, three doubles and three all-around titles. His best year was 1996, when his six awards included the senior vet doubles championship for 99 and all-around honors for 390. Both scores set category records which have not been matched.
George has also been successful at the Great Lakes Grand, where he won nearly 30 awards. In 1988, he captured the veteran singles and twin-bird titles. His six trophies the following year included the senior vet doubles and all-around crowns, and he captured the same two titles in '90 and '91. His seven prizes the latter year also included the age-group singles championship. In '93, George also finished second among senior vets in the main 16s and handicap. The next year, he snared the 70-and-over doubles and all-around crowns. George was again the senior vet champ.
George collected 11 trophies at the Grand, including the senior vet handicap title in 1993.
From 1988 through '96, George captured seven ATA Eastern Zone championships. In '88, he won the singles veteran title record 200. He annexed five senior vet singles crowns, including the one in in '93 with 200, which set the record for that category. George also snared the 70-and-over championship in '96.
George won his first Pennsylvania group title in 1987, when he was singles champ, and he duplicate accomplishment the following year. Beginning in '89, George captured senior vet 16-yard title six out of eight years. In '92, he established the 70-and-over record of 200, and he matched that score when he chose age-group honors over runner-up.
George was selected to the veteran All American team every year from through '89, serving as co-captain the first two years. Except for 1996, he was named to the senior vet team from 1990 through '97, earning the captain's spot in '91. He was also on 17 state teams.
During his 33-year career, George shot at 224,950 singles, 112,150 handicap and

117,650 doubles targets. He had a 98% singles average nine times, posted 100x100 in doubles and 33 200x200 singles. His final perfect doubles score and his last two 200s in singles were in 1996, his last full year of registered competition, at age 78.