Hall of Fame Inductee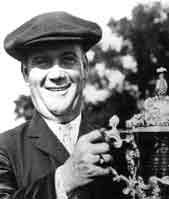 Fred Etchen
Inducted in 1979
Born: 4-Aug-1923
Died: 27-Aug-2001
Age: 78
State: KS
Fred Etchen, a native of Coffeyville, KS, brought international fame to the United States as captain of the 1924 Olympic Trapshooting Team. He led the team to a gold medal in Paris, France, and he single-handedly captured the British Open Championship with a perfect 200 while on the tour. He also was International Live Bird Champion of the World in 1926 and tied for the title the following year.
He captured trophies at the Grand American from 1920 to 1945, with his major one being the Doubles Championship in 1938. Two years earlier he had tied for the Class A title in the same race and won it in shootoff over Hall of Fame enshrinee Ned Lilly. An International Championship was held at the 1932 Grand American, with Fred Etchen the winner.
Fred Etchen won 17 Kansas State titles from 1925 to 1939—three singles, one handicap, seven doubles and six all-arounds. He also was runnerup in the singles five times and once each in the handicap, doubles and all-around. He has been named to the Kansas All-Sports Hall of Fame for this performance.
Upon moving to Florida he captured one singles, two doubles and two all-around crowns from 1947 to 1950.
He led doubles averages in the ATA in 1928 and 1930.
Fred Etchen was an innovator. His book, How To Be an Expert at Shotgun Shooting, was one of the early ones in the sport, and many who are shooting today discovered it as the first book they read on trapshooting. He helped form the Amateur Trapshooting Association, was one of the first five zone vice presidents, and held life membership No.13. In 1923 he produced the first Grand American Program for the ATA, after the association was formed under amateur control.
After 29 years in the automotive business, Fred Etchen dedicated his retirement years to helping the shooting sports. For some time he worked with SAAMI (Sporting Arms and Ammunition Manufacturing Institute), training instructors for gunnery schools during the second World War. When peace came, he formed his own shooting school and traveled extensively. Some of his major points of instruction were Dallas, Atlanta, Phoenix, Tucson and Minneapolis, plus he spent summers teaching in Sun Valley. He also opened a shooting club in Miami. From all of these efforts, many champions emerged, not the least of which was son Rudy, the first to break 100 straight in doubles at the Grand.
Fred Etchen passed away in 1961.