Hall of Fame Inductee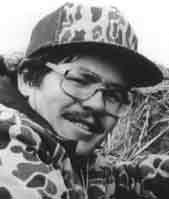 Brad Dysinger
Inducted in 2000
Born: 21-Jun-1954

State: OH
A lifelong interest in guns and hunting, plus a flight home from Florida which landed in Dayton, adjacent to the ATA homegrounds' trapline, led to the beginning of Brad Dysinger's trapshooting career. Since they couldn't go hunting the next day, he and the buddy who picked him up at the airport decided that they should go trapshooting instead. They began shooting at clays every weekend, and in April 1974 Brad began registered competition at the St. Joe Club in northern Indiana.
The following year, one day after his 21st birthday, Brad captured the Ohio state handicap crown with 98 plus 25 straight extras. At the time, this I ,600-entry field was the largest yardage contest outside the Grand American, and Dysinger was one of very few in that period to win a major handicap from the 27-yard line.
In the 1976 target year, his performance earned him his first of 15 amateur All-American team selections when he was named to the 1977 squad. He was selected to men's first teams again each year from 1978 through 1982. During that time he captured 10 more Grand American awards, six additional Ohio state titles and two more Central Zone crowns.
In 1983 Dysinger signed on with Beretta USA as a field representative. That year he set the record for number of awards earned at one Grand American---14. He captured the top industry awards in the Grand American Handicap, Doubles, All-Around, High-Over-All, Vandalia Handicap, Singles Class Championship (with 200, Dayton Homecoming Preliminary Thursday singles and handicap, prelim Friday's 16s, and all three events on preliminary Saturday. In the Clay Target Championship, he was industry runner-up. Additional awards in 1984 resulted in his being named to the 1984 and 1985 All American industry teams as captain.
Brad returned to amateur status for the 1985 season and continued his successful tournament wins at all levels. In 1990 he began an unbroken string of nine Grand American awards earned following perfect scores. A Maryland resident from 1986 through 1993. Dysinger scored one singles, one handicap, two doubles, and four all-around championships in that state. His 393 in 1991 was a new high, and two years later he tied the record of 394. Back in Ohio for the 1994 season, he earned the all-around championship, the l7th ATA state title of his career.
Brad secured spots on men's All-American first teams from 1986 through 1991, was a second-team All-American in 1992, and was again on first teams in 1994 and 1995.
In addition to his 60 career Grand American trophies are 30 from Spring, Southern, Midwestern and Great Lakes Satellite Grand tournaments between 1978 and 1997. Among the many additional awards he has won during his 26-year career are ones from Michigan, Florida, Indiana, Iowa and Pennsylvania state shoots; the Ontario Provincial shoot; Canadian Championships; Golden West Grand; Middletown Mid-American and Fall Festival; Kansas Fall Handicap; plus numerous Arizona and Florida Chain tournaments.
Brad Dysinger became the 17th on record to complete an ATA Grand Slam (200x200 singles, 100 from the 27-yard line, 100 doubles) on August 28, 1977. At the 1982 Indiana State Shoot he became a member of the 8th 500x500 singles squad on record. He was also a squad member of two other 500-straight groups---at the 1983 Florida and 1994 Maryland State Shoots.
He presently resides in Ohio with his wife Ann (a talented wildlife artist) and two children.