Hall of Fame Inductee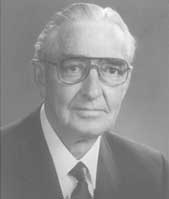 X. E. (Bus) Durant
Inducted in 1989
Born: 11-May-1922
Died: 18-Aug-2012
Age: 90
State: ID
X. E. (Bus) Durant was ATA President when the Hall of Fame was dedicated in 1969 and presiding officer at ceremonies for the historic dinner and induction rites on Monday, August 18th of the Grand American that year. The following day he took part in cutting the ribbon to open the upper level Hall of Fame portion of the expanded clubhouse building and in pulling back velvet draperies to reveal the photographs and plaques honoring the first group of enshrinees into the Trapshooting Hall of Fame.
A longtime mayor of Pierce, Idaho, Bus set up a trap for practice in 1948 and began registering targets nine years later. He has attended the Grand American since 1962, the year he was voted as his state's delegate to the ATA. In 1963 he was named to the Central Handicap Committee where he served two years.
In 1964 Durant was elected ATA Western Zone Vice-President, remaining on the Executive Committee through 1970 --- four years as Vice-President, one as President, and one year as Ex Officio. In 1975 he was again appointed Western Zone representative to the Central Handicap Committee, and be has been Chairman of the Committee since 1985.
In addition to plans for the Hall of Fame opening and dedication ceremonies, many other innovations, as well as political events impacting on the trapshooting world, came during Durant's term as ATA President. One of the first moves following his election was a restructuring of the Central Handicap Committee providing for an appointee from each of the five ATA zones. During executive committee meetings decisions resulted in revising the Grand American Week program, then 600 singles, 300 handicap, and 100 doubles, to its present 400 singles, 400 handicap and 200 doubles; at the same time a format change for the printed program included that all rules and regulations be grouped in one section, rather than being scattered throughout the book. A sub-junior trophy was added in each Grand American event (where there had been only a junior award). A 10pm curfew on Grand American shutoffs was introduced, stating that no competitor had to shoot more than 100 targets in an evening (if time remained before the curfew) unless he so wished and officials agreed. The issue of 'trap reading" was confronted during Bus's term and meetings with manufacturers to work toward equipping trap machines with interrupters or other devices to meet "unknown angle" requirements were conducted. Plans were made to replace and straighten 24 trap fields in the center of Vandalia trapline, to modernize the traphouses, and to allot more room between layouts.
It was during his administration that the 1968 Federal Firearms Act was enacted, effective December 16th that year. This followed several years of efforts to pass anti-gun legislation.
In his local shooting area Bus was President of the Camas Prairie Trap Association in 1962 and 1967, and he is past-president of both the Orofino and Pierce gun clubs. A member of the Hi-Yu Indians since 1958, he served as high chief in 1965. He was initiated into the Shoshone Indians in 1962.
Bus nailed down the Class B runnerup laurels at his 1962 state shoot in the 16-yard class event, and he captured class awards in the 1970 and 1985 doubles title events. In 1988 he forfeited the top vet trophy, settling for runnerup spot, in the Doubles Championship.
At the ATA Western Zone Shoots in 1965 and 1969 he won C class honors in the Doubles Championship and preliminary race, and his 98x100 was high in B class of the 1981 Preliminary 16-yard event. He hit 98 from 22 yards to tie for high gun laurels in the 1984 preliminary handicap, settling for his yardage trophy, and he won B class recognition in the 1986 Doubles Championship for 98 after a shoot-off.
At the 1966 Camas Prairie Shoot, Durant broke 95 from 22 yards and then won a shoot-off over two for third place in the main handicap. He annexed runnerup class prizes in the doubles races of the 1970 and 1983 meets.
Bus earned Class B honors with 98x100 and shoot-off on Preliminary Thursday during the 1976 Grand American. At the 1987 Spring Grand American in Phoenix he posted a 96 from 24 yards (second-high score in the race) for 22 to 24 yard-line laurels. He reached the 27-yard line for the first time just prior to his 1988 induction into Idaho's Hall of Fame. His home state honored him for the time and effort he has devoted to trapshooting, his willingness to help a fellow trapshooter, and his love for the sport which has benefited all.