Hall of Fame Inductee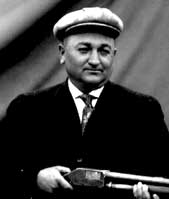 Mark Arie
Inducted in 1970
Born: 3-Mar-1882
Died: 19-Nov-1957
Age: 76
State: IL
Mark Arie, one of the most colorful and popular trapshooters in the sport's history, was considered to be one of the greatest handicap shots of all times. Born in 1883, Arie began his trapshooting career in 1905 when he entered his first tournament at Rantoul, Ill. and won top honors with 157x160. That year at the Grand, he hit 97 from 17 yards in the GAH, only two behind the winning 99.
Arie became the first Grand Doubles Champion in 1912 when he won the title with 89. A span of 22 years later, in 1934, he won his second Doubles crown. He was the first shooter to run 100 straight doubles from scratch when he broke the first 163 in a 200-bird race at the Great Western Handicap at the Denver (CL.) Municipal TC on July 18, 1926.
Arie tied for the GAH title in 1917 with 98, only to lose the shootoff. He returned in 1923 to become the first maximum-yardage shooter (23 yards) ever to win the GAH, posting 96. Besides tieing for the GAH in 1917, Arie annexed the Clay Target Championship. He won the singles title again in 1928 and was High-Over-All leader at the Grand in 1912, 1913, 1917, 1918, 1923, 1924 and 1932. In 1932 he tied for the Jim Day Cup, symbolic of the All-Around Championship.
In 1919 he led the amateurs in singles with a .9780 mark on 2,920 targets, an amateur record at the time.
It was in 1920 that Arie added international fame to his list of accomplishments by winning the individual gold medal in the Olympics. He smashed 95x100 at Antwerp, Belgium. He was also a member of the U.S. group that won the team gold medal in the 1920 Olympics.
Arie decided to give it a try as an industry rep in 1921 but returned to the amateur ranks after one year. During the 1921 Grand, he tied for the professional championship.
Arie attended the Grand seven times as the Illinois State singles titlist and three of those times he won the Champion of Champions race (1917, 1926 and 1934). He was a member of the winning Illinois team at the Grand in 1926, 1931 and 1935.
At Iowa State in 1934. Arie was the second shooter to break 100 straight from 25 yards turning in his perfect score from the than maximum yardage. His all around total at that shoot was 395x400, an ATA record at the time.
For the first four years of its existence, 1927 through 1930, Arie was named to the All American team. He also placed on the squad in 1932 and 1932.
On November 19, 1958, Mark Arie died at his farm near Champaign, Illinois.