Hall of Fame Inductee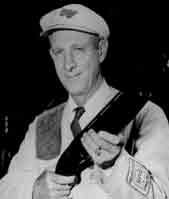 Cliff Doughman
Inducted in 1979
Born: 11-Jun-1911
Died: 11-Feb-2006
Age: 94
State: OH
Cliff Doughman achieved prominence as an amateur from Morrow, Ohio before joining the ranks of industry representatives and later moving to Alton, Ill., to serve as shooting promotion manager of Winchester-Western for many years. Upon his retirement from there, he returned to amateur status and put his experience and knowledge of gun club operation to good use as manager of the Phoenix (Ariz.) Trap & Skeet Club. At the time of his induction, he was residing in Hudson, Fla.
Cliff Doughman's initial major trophy came as an amateur, for seventh place in the Grand American Handicap of 1942. Four years later he was runner-up in the Doubles Championship, and in 1947 he captured the North American Clay Target Championship.
He had placed on amateur All-America teams in 1946 and 1947, then from 1948 to 1968 he earned his way to 21 consecutive industry All-America teams, being captain of 10 of them.
During that period he led industry singles averages 12 times, handicap once, and doubles nine times. During 1949, 1952, 1953, 1954, 1955, 1956 and 1966 he headed both the 16s and doubles lists.
Cliff Doughman earned 39 major industry trophies at the Grand American—one in the Dayton Homecoming, four in the Introductory Singles, seven in the Class Championship, eight in the Clay Target, three in the Preliminary Handicap, two in the Grand American, five in the Doubles Championship, one in the Vandalia Handicap, five in the All-Around and three in the High-Over-All.
While in industry ranks, he outscored the field at the 1961 Golden West Grand Handicap, breaking 98 from 26 yards while the winner totaled 97 from shorter yardage.
Cliff Doughman was the sixth person in the ATA to break 100 straight in doubles, in 1961 at Camp Troy, 0hio.
While competing at the Grand American as an amateur in 1947, he was a member of the world record squad on 1,000 singles. He, Ralph Smith and D. Lee Braun broke 200, while A. M. Feltus and Cecil Morris hit 198. The 996 total was untied until 1968 and unsurpassed until 1971.
In 1970 Cliff Doughman was in amateur ranks again, and he won the Arizona State singles and all-around titles. He repeated for those and added the doubles in 1971.
When Cliff Doughman stopped registering in 1971, he had amassed a total of 67,125 16-yard targets, with 54 200x200 straights to his credit included.