Hall of Fame Inductee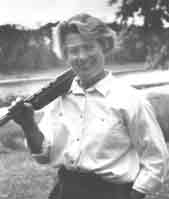 Loral I Delaney
Inducted in 1989
Born: 3-Feb-1938

State: MN
Loral I. Delaney of Anoka, Minnesota began shooting registered targets in 1957 and has been earning titles in her home state, at other large meets, and at the Grand American beginning with her first year in the sport. She attended her first Grand American in 1964 and since then has earned fifty trophies there. She captured the women's High-Over-All title in 1966 with a record-tieing 954x1000, and scored 946, 949, 931,and 937 to take home the crown each of the next four years. She is the lone lady to capture this award more than two consecutive years, or exceeding a four-time total, having won it five consecutive years, with a total of seven wins in this category. Her fifth win in 1970 retired the second, much coveted, Frances and Clyde King trophy.
In the Grand American Loral I paced women in the All-Around in 1966 with a record setting 380 x 400, in 1970 with a 376, 1977 a 373, and 1978 a 376. At her first Grand in 1964, she ended third in the Women's Champion of Champions race after a tie at 97 for the crown. She earned the title in 1967 for 99x 100, and in 1969 for 198x200 shot concurrently with the Class Singles. A runnerup in 1968 for a 98, she placed third again in 1970 for the same score, and in 1978 for a 99 after deadlocking for the title.
In the Clay Target Championship, three first-place and three runnerup awards have been Mrs. Delaney's. She won the title with a 199 in 1968, repeated in 1970 with a 196, and was tops again ten years later with a 199. A score of 198 placed her second in this race in 1966, 1969, and 1986.
Loral I has captured eight trophies in the Doubles championship since 1969, the most recent for a second place in 1985 with a 96x100 tie for the top prize. Her prior trophies were by class.
She has garnered seven awards from the Class Singles while, with husband Chuck, snaring four Husband-Wife titles in the same races. Loral I was runnerup woman in the 1986 class 16s with 197. She topped AA standings m 1968 through 197O and in 1978, and her scores of 198, 198, 197and 199 were also the top ones posted by women in the race. She was also victorious in A Class with 196x200 both in 1966 and 1967.
She won the ladies in the Dayton Homecoming races of 1969 (100x100) and 1979 (197x200); in the 1966 preliminary handicap with 93 from 22 yards, and headed ladies in the 1970 Saturday preliminary 16s with a 99. In 1968, during the final Introductory Singles race in Grand American history, Loral I broke 197 to capture the female title. During the international Clay Pigeon Championships of 1977 and 1989 she posted 96s for the women's title.
The only lady in Minnesota to earn the state doubles crown, in 1968 with a 98, she was also, at the time, the ninth woman in the ATA record books to win any state or provincial twin-bird title.
Her first ladies state championship was won in 1957, the year in which she was introduced to trapshooting. Her next state title win was in 1966 when she set a record of 197. She kept the crown for six straight years, tieing her zenith again in 1968. She was also victorious in 1978 and 1987, matching the current Minnesota mark of 199 in her 1987 triumph in 1982.
Loral I captured the ATA Central women's singles championships in 1966 with 193 and in 1967 and 1970 with 195s.
She earned the women's trophy in the Golden West Grand singles in 1971 with 197 and was lady runnerup in the handicap in '76. The following year she finished second among women in the class race and preliminary doubles, and also with husband Chuck headed the husband-wife race. In 1979 she paced the ladies in the preliminary singles and two years later captured 13 laurels in the main doubles event. In 1986 she scored 99 from 25 yards to win high-gun honors in Tuesday's preliminary handicap receiving 1½ yards for her efforts. The following day she earned another half yard to make it to the 27 yard line for the first time. In 1988 her 95 in the class doubles won C class.
Since the 1950's when target minimums were introduced for ATA average leaders, Loral I Delaney has been the only women to lead all three types of averages in one year. In 1968 she hit 97.72% of 2,500 singles, 91.66% of 1,500 handicap, and 92.42% of 950 doubles targets. This same year she set a women's All-Around Average record of .9393, topping the previous mark by more than two targets which was not surpassed until 1982.
Mrs. Delaney was named to every women's All-American team from 1966 through 1981 except 1975. All but three selections were to the first team. She was chosen captain each year from 1969 through 1971 and again in 1979, and she was named co-captain in 1968.
At the Hall of Fame dedication dinner twenty years ago, Loral I, dressed in buckskins and portraying Annie Oakley, presented one long stemmed rose to each of the ATA officers responsible for making the Hall of Fame a reality.., a scene reminiscent of one at the 1924 Grand American, the first held on the ATA's permanent homegrounds in Vandalia. There, 1920 Olympic team captain Jay Clark presented roses to the ATA President George McCarty at the tournament's opening ceremonies.
Loral I Delaney, with her husband Chuck are professional dog trainers. For many years she performed at sport and travel shows throughout the country with her hunting dog act.