Hall of Fame Inductee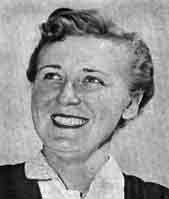 Helen Urban. Cone
Inducted in 2007
Born: 30-May-1922
Died: 23-Jan-2002
Age: 79
State: OH
Helen Urban Cone, a seven-time All-American, traveled far from her home base of the 60-acre Ohio shooting facility she owned from 1957 through the 1990s. First registering in 1954, in her career she earned 18 Grand American trophies, plus awards at the Spring Grand, the Western Midwinter Chain, the Florida Chain, and at major shoots in Midwest, eastern and southern states.

In 1956 Helen captured her initial Grand award–women's Preliminary Handicap runner-up. Two years later she topped all women in the All-Around and High-Over-All, repeating her H-O-A championship in 1959 and 1961. In l958 she tied for high woman in the Grand American Handicap, finishing with the runner-up award. She also won women's Class B in the Class Championship, matching the women's A winner with l97.
Only five men in the entire 1959 Grand American-week singles races outshot Helen Urban. Her 596x600 set records. She led women in Monday's Introductory Singles with 199, was high in the Class Championship with 198, and tied the Clay Target record with a lone 199 to win. In the 42 years of the feminine Clay Target title, only one other had scored 199.
Helen collected two more trophies in that 1959 Grand–the Husband-Wife Intro Singles with husband Richard and her second High-Over-All trophy in a row. Another repeat came in 1960, when she again won the Clay Target Championship, this time with a 197. That was the second-high score in the history of that women's race. In the Dayton Homecoming, Helen outshot all other women competitors, and she and Dick teamed up for their second Husband-Wife trophy in the Intro l6s.
From 1961 to 1963, Helen won four Grand women's doubles awards–runner-up in that 1961 championship race, and top honors in the prelim contests in 1962 and 1963 plus a special event in 1963.
In Ohio State competition she won nine major women's awards: singles champ 1956, 1979; handicap 1957, 1962; four doubles crowns, and the H-O-A in 1963. After husband Dick died, Helen married Eli Cone, and they won two state husband-wife awards in the 1970s.

Helen's first All-America placement was on the second team in 1957. Followed were first-string teams six times–1959 through 1964.
She was high-over-all champion (men included) at an annual fall shoot at Dover Bay, and she frequently outshot men in other races. Helen was one of the first women to compete in the then-only 1,000-bird marathon, begun at Taneytown, Md. Registering 119,225 singles in her career, Helen tied for the seventh woman in ATA history to shoot more than 100,000. She also registered 63,625 handicap and l9,000 doubles. Helen was inducted into the Ohio Hall of Fame in 1993. She died in 2002.