Hall of Fame Inductee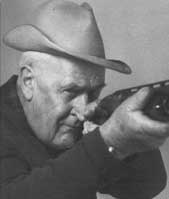 Morris D. Clark
Inducted in 1978
Born: 3-Sep-1905
Died: 21-Apr-1983
Age: 77
State: CT
Morris (M. D.) Clark's exceptional twin-bird firing is evidenced by his two Doubles Championship victories at the Grand American, two Eastern Zone twin-bird titles and 15 Connecticut doubles crowns. His numerous state singles championships were highlighted with a 200x200 state scoring record which remains untied, and from his first state award in 1937 to his latest achievement of that caliber in 1976, he has earned 39 Connecticut titles, including an all-around with a state scoring record.
Mr. Clark received his first Grand American recognition in 1949 when he secured third place in the Champion of Champions race with 99. That same honor was his in 1952, that time with a perfect century and 25-23 in shootoff. The year before marked his first claim to fame in Grand twin-bird competition, when lie bested Hall of Fame enshrinee Mercer Tennille for the crown in the Doubles Championship by one overtime bird. In 1953 he outfired another enshrinee, Arnold Riegger, to recapture the same honors.
Mr. Clark earned his initial Connecticut titles in 1937, two years after he registered his first targets. There he led singles and all-around scoring, claiming the first of 11 all-around trophies. In 1941, Mr. Clark captured every men's title awarded. The following year he added another twin-bird trophy to his list, and in 1947 another singles and all-around crown. A year later he claimed those two again plus the doubles award, and he repeated all three wins in 1949, the year he was first named to the All-America men's team.
He led 1940 Eastern Zone singles and doubles scoring, and in 1950 he won the doubles and high-over-all, followed in 1952 by the all-around and H-O-A. In '51 and '52 Mr. Clark earned a place on the All-America men's first team. He was also the Eastern representative to the ATA Executive Committee in 1952-53.
It was 1950 when Mr. Clark smacked all 200 championship singles targets to set an unmatched Connecticut record. (Five 199s have been entered in the state's history.) That year his streak also included the doubles and all-around crowns. His all-around score of 393 surpassed his previous all-around scoring record of 1941 by six (which then became second high), and only two others have matched that 1941 tally since.
The singles, doubles and all-around were again Mr. Clark's in 1952 and '53, and from that year through 1962 he swept up eight doubles, three all-around and two state singles crowns, taking at least one ATA title home in each of those years. During '53, '54 and '56 he placed again on All-America teams.
In 1976, as a veteran, he bested the entire state handicap field to claim a championship he had earned 35 years earlier. Also in '76 he earned the newly-instituted veteran singles championship.
Mr. Clark has registered 57,250 singles targets, with 6,100 targets of all three types being recorded in the 1977 target year. More on M. D. (Mink) Clark.