Hall of Fame Inductee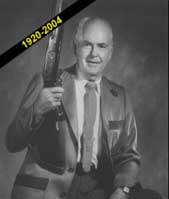 Bob Allen
Inducted in 1982
Born: 8-Apr-1920
Died: 17-Nov-2004
Age: 84
State: IA
Bob Allen of Des Moines, Iowa, 13-time All-American, earned 14 Grand American awards, including the Doubles Championship and runnerup honors in the Clay Target, Champion of Champions, Doubles and All-Around races. He fired on a record-setting singles squad in 1954, and his 15 Iowa State titles include the handicap with 99 from 26 and the doubles with a record-tieing 99.
Allen won the Grand American Doubles Championship in 1957 in overtime after tieing at 95 with Bueford Bailey and Mercer Tennille, both of whom are in the Hall of Fame. He was runnerup three times before winning the crown, ending second in shootoff after tieing for the titles in 1950 and 1952 and placing as runnerup in 1954 with a lone 98 after 99 won the championship. In the 1954 Class Singles Championship, Allen was a member of a 995 squad that surpassed the former amateur mark by three targets. The 995 remained high among amateur squads both on and off the Vandalia grounds until 1969, and it stayed the amateur record on the Grand layout until 1975. Allen broke 199 in the 1954 squad with Fred Waldock Jr. (199), Fred Waldock (198), George Genereux (199) and Marvin Driver (200).
Allen tied for the Clay Target Championship in 1956, breaking 199 then 149x150 in shootoff to secure runnerup honors. He ended second in the 1954 Champion of Champions Race following 100 in the program and 199x200 in shootoff, and he was also runnerup in the All-Around that year by one target. In 1955 he ended fourth in AA of the Class Singles Championship after five straight overtime rounds, and he won Preliminary Saturday's doubles with 98 alone in 1961. Bob also shot as part of victorious Iowa teams in the State Team Championships in 1953, 1964 and 1969, and he was a member of the winning Central Zone fivesomes in the Zone Team Races of 1953 and 1958.
Allen earned his initial Iowa State championship in 1948 by leading all-around scoring, and he was the all-around titlist again the following year and for five more times between 1956 and 1965. His personal high winning all-around total of 390 was entered in 1962, the same year he won the handicap championship with 99 from 26. Allen captured the singles crowns in 1950 and 1954, and he was the doubles titlist five times between 1953 and 1966, with a 99 that final year matching the state record set five years earlier by Marvin Driver, a Hall of Fame enshrinee in 1975.
Central Zone doubles titles were earned by Allen in 1949 and 1950, and he led all-around standings in 1953.
Allen was a first-team All-American in 1952 through 1957 and again in 1963, and he placed on second teams in 1948, 1949, 1951, 1959, 1961 and 1962. At the end of the 1981 shooting season, Allen had registered 95,050 singles targets.
In 1970 when Iowa's Trapshooting Hall of Fame was initiated, Bob Allen was among enshrinees. He was Iowa's average leader for several years, and at one time he was the only state shooter ever to hold both trap and skeet championships in the same year. Flyer shooting has always been one of Allen's interests, and besides U.S. championships, events have been won by him in Cuba, Mexico, Monaco, Portugal, France, Italy and Mozambique.
Allen was an Air Force gunner in the South Pacific during World War II, designing a cap then that later became the start of his world-known Bob Allen Gun Club Sportswear company.