Hall of Fame Inductee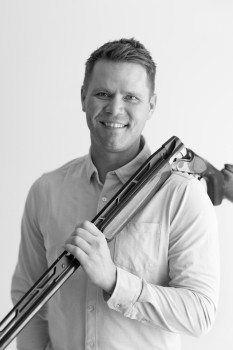 Patrick Lamont
Inducted in 2023
Born: 7/27/1985
Died:
State: MB
Patrick Lamont of Brandon, MB, grew up going to the gun club with his dad. He started out working at the club, scoring, pulling and loading traps. He gave shooting a try at the age of nine, joining competitive events when he was 12.
One of just two shooters to have won all five championship events at the Grand American, Pat has collected 10 championship rings at the tournament. In 2008 he topped the Grand American Handicap and All-Around. His 100 from the 27-yard line earned him the handicap crown outright and completed his ATA Grand Slam and Grand American Grand Slam. He repeated the HAA win the following year and in 2017. He captured Clay Target titles in 2016 and 2022 and topped the Doubles Championship in 2017. High-Over-All wins came in 2017, 2018 and 2022.
He has claimed numerous High Canadian trophies since 2002, including 12 in the Clay Target, five in the Grand American Handicap, seven in the Doubles, 15 in the All-Around and 16 in the HOA. He has been past GAH winner seven times. He was Zone Champion of Champions victor in the 2019 Clay Target race. In 2013 he was a member of the winning Zone teams in both singles and doubles. He had another singles team win in 2016 and doubles in 2018.
Pat blasted all 100 during the 2017 President's Handicap to head the event. He was high gun in the 2011 Champion of Champions and runnerup in 2010 and 2018. He and dad Rob secured the Parent-Child Trophy in 2005, 2011 and 2013 in addition to tying for it in 2003.
His 21 twin-bird centuries at the Grand ties for 10th on the all-time list.
He has won the Spring Grand doubles title once and the all-around and high-over-all crowns twice each.
At the ATA Central Zone Shoot, he has collected 12 titles, including two singles, one handicap, three doubles and six all-around. He set the all-around high of 398x400 in 2013.
Pat has 44 Manitoba provincial titles over the field, including 14 each in singles and doubles plus five handicap and 11 all-around. He swept the championship events in 2009 and 2011. His category singles crowns include the 1998 and 2000 sub-junior and 2001 junior.
Pat's main event wins in the Canadian Championships include seven singles, three handicap, 10 doubles, eight all-around and 10 high-over-all.
He has placed on the All-American Team six times between 2003 and 2023, including one junior and five open.
He has four Trap & Field All-Around Average Awards, and his 2013 singles average of .9972 ties for eighth on the all-time list. Pat has led the association in singles average three times and handicap twice. He has posted a 99%+ singles average (on a minimum of 2,500 targets) 12 times.
In 2002 he reached AA-27-AA status and AAA-27-AAA status in 2015.
Pat has served as president of Brandon GC for 10 years and has been Manitoba's ATA Alternate Delegate for 15 years.
With an engineering background, he currently works in a chemical plant in his hometown.
He considers being inducted into the Hall of Fame the highest honor he could have in the sport.