Hall of Fame Inductee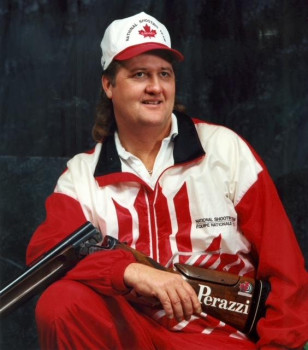 Rod Boll
Inducted in 2023
Born: 7/9/1952
Died: 1/28/2021
State: SK
Growing up on a farm, shooting was a natural transition for Rod Boll of Fillmore, SK. He registered his first ATA targets in 1970, beginning a career that spanned more than 50 years before his untimely passing in 2021. Rod's numerous awards included not only ATA championships but accolades in International-style trapshooting as well.
In Grand American competition, Rod won the 1988 Champion of Champions with 100 plus carryover and shootoff over 17 others. He secured the 2016 sub-vet and 2018 veteran Doubles titles, both with 100. He claimed the High Canadian trophy both years as well.
Rod collected more than 20 category titles at Satellite Grands. His Autumn Grand sub-vet championships include one singles, two doubles, one all-around and an HOA. He also acquired a veteran HOA win. In Spring Grand competition, he earned sub-vet doubles and handicap titles and a veteran HOA crown. At the 2014 Southwestern Grand, Rod topped the 55-64 group in the singles, doubles all-around and HOA, and he was sub-vet singles winner in 2017. He had two sub-vet handicap titles from the Western Grand plus two more in doubles, adding to the one each he won for HAA and HOA. He also claimed veteran singles honors once.
While competing at the ATA Central Zone, he topped the 1983 Doubles Championship with 100 and in 2020 was the veteran singles victor with 200.
Among Rods' 32 Saskatchewan titles were eight singles, two handicap, 10 doubles and seven all-around. His category singles crowns were one junior and two each in sub-vet and veteran.
Rod won all five main events at the Canadian Championships, with the last being the 2019 Handicap Championship in a shootoff with his son Kahl. His other championship event wins included three singles, seven doubles, seven all-around and five HOA.
He earned spots on the All-American Team eight times between 1989 and 2021, including one men's, four sub-vet and three veteran.
Achieving AA-27-AA status in 1988, Rod entered singles averages of 99%+ in 1989, 1990 and 1996.
Rod was a Canadian National "A" team member from 1993 to 2005. Earning a gold medal at the 1994 World Cup, he helped his team to silver that year and bronze the following year. In 1996 he received an individual bronze medal at the World Cup Finals in Italy and another at that year's World Cup competition in Lima. During the 1995 Pan Am Games, Rod's team won gold, and he earned an individual bronze. He landed two gold medals at the 1998 Nike World Masters Games and a bronze at the 2005 Championship of the Americas. He also collected numerous trophies at the Canadian International Trapshooting Championships, including four gold. He competed in the 1996 Olympic Games in Atlanta.
Rod served as Saskatchewan's ATA Delegate and Alternate Delegate during his career and at one time or another filled most office positions of the provincial association. He worked to promote trapshooting within the province.
Rod worked as a farmer and in his family's land company.
Kahl said Rod would have been honored to be inducted into the Trapshooting Hall of Fame and humbled to be among so many great shooters, past and present.