Hall of Fame Inductee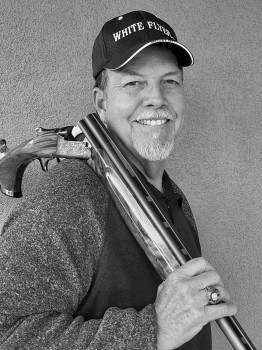 Gary Bonetti
Inducted in 2022
Born: July 14, 1960
Died:
State: CA
Gary Bonetti of Sacramento, CA, grew up around guns. He began shooting trap targets in the back yard when he was nine or 10 and joined ATA competition in 1973 at 12years old. He ran his first 100 at 14.
Gary attended his first Grand American in 1980, winning Class A trophies in two prelim singles events andthe High-Over-All. Eleven years later he broke 100 from the 27 in the Grand American Handicap, completing his ATA Grand Slam and Grand American Grand Slam. He tiedwith three others for the coveted title and ended runnerup after shootoff. That score helped him to a 398 total in the All-Around, securing him a Grand ring. In all, Gary has won 16 trophies in Grand competition, including high gunin the 1997 prelim Saturday doubles with 100. That is one of four twin-bird centuries he has broken at the tournament, and he has carded a 200 six times there. He was a member of winning Western Zone teams in the Zone team race in1996 and 1998.
His Autumn Grand titles include the 2016 handicap and 2013 doubles and all-around, the latter with a record-matching 398. In 2014 he won a prelim handicap event with 99. He captured the 2012 singles and 2018 handicap crowns at the Spring Grand. His sub-vet titles from that tournament are the 2018 all-around and HOA plus the 2019 and 2021 HOAs.
In 2021 Gary won the Western Grand sub-vet handicap, all-around and HOA titles.
At the 1996 ATA Western Zone, he won the Singles Championship with 200. His Zone sub-vet wins include the 2018 singles, doubles and all-around plus the 2019 all-around.
Gary won California state doubles titles in 1984, 1989 and 2001 (all with 100s) and all-around crowns in 2004, 2009, 2011 and 2018. He also landed the 2017 sub-vetsingles win.
He has also collected trophies at the Southwestern Grand and Golden West Grand plus many other state shoots.
Earning All-American status seven times between 1990 and 2020, Gary has been a member of six men's teams and one sub-vet.
He earned a Trap & Field All-Around Average Award in 2019 in the sub-vet category. His 2015 handicap average of .9425 ties for eighth on the all-time sub-vet list, and his 2018 doubles average of .9735 is seventh in the age-group Top 10. He has logged 99%+ singles averages six times.
He reached AA-27-AA status in 1989 and has earned his AAA-27-AAA pin as well. Gary is an enshrinee in both the California Hall of Fame and PITA Hall of Fame.
He was part of a squad that set the handicap record of 494x500 at the 1991 ATA Western Zone Shoot that stood for six years. He also considers the times he has appearedon the cover of Trap & Field to be special, and he has framed each one.
Gary has owned a construction company for 11 years, but he is now able to spend more time enjoying life than working.
"I'm very fortunate trapshooting was part of myupbringing. It has brought a light into my life. I wouldn't be where I am today without it."