Hall of Fame Inductee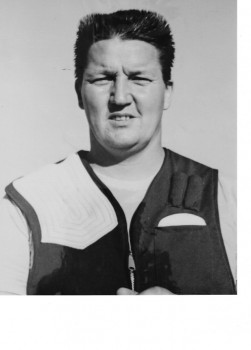 Louie F. Morgan
Inducted in 2019
Having always enjoyed guns, Louie Morgan of Loveland, OH, decided to take his 28-gauge hunting gun to the Old Milford GC and give trapshooting a try. He registered his first targets in 1973.
Louie won his first Grand trophy in 1985, taking Class A honors in the Preliminary Saturday doubles. Since then he has collected more than 30 awards at the tournament, including top honors in the 1996 prelim Friday handicap and the 2000 Dayton Homecoming with 100 plus 225 in a tie-breaker over 95 others. He tied for the 1997 All-Around title with 395, ending with the AAA award.
His veteran championships include the 2004 Clay Target, All-Around and HOA plus the 2007 Doubles. He also secured the 2011 senior vet Doubles and All-Around crowns. In 1976 he tied for the Clay Target title, which was not only his first 200 in Grand competition but also his Honor Roll double-century. In all, he has broken 19 200s at the tournament and three 100s in doubles.
With a perfect 150, Louie won the 1989 Southern Grand singles crown and four years later repeated the feat. He also earned the 2017 senior vet handicap and all-around plus the 2018 and 2019 age-group singles titles. The most recent was five days before his 80th birthday.
In Great Lakes Grand competition, Louie secured the veteran HOA championship three years in a row starting in 2005, and that first year he topped the category in the 16s as well. He also won the 2016 all-around and HOA senior vet trophies plus the 2017 70-and-over singles and doubles crowns. His other Satellite Grand championships include the 2007 Empire Grand veteran HOA plus top senior vet honors in the 2017 singles and 2018 doubles at the Dixie Grand.
Morgan has won six Ohio state titles over the field, including one handicap, two doubles and three all-around, plus one veteran and two senior vet crowns.
He has been a member of the All-American team 19 times since 1990, with seven open, five veteran and seven senior vet placements, including the current team. He completed his ATA Grand Slam on Sept. 7, 1987, with 100 in doubles.
He has been a part of three 500 squads, including two at the Grand American, in 1993 and 2004.
Louie entered 99%+ singles averages 15 times between 1985 and 2008. He has earned three Trap & Field All-Around Average Awards, two as a veteran and one senior vet. His 2009 average of .9529 ranks ninth on the all-time senior vet list, and his 2005 singles average of .9917 on 3,500 targets ties for 10th on the veteran top 10.
His most memorable win came from the 1986 Ohio State Shoot in Vandalia, when he smashed 100 from the 27 in a prelim handicap and took home $20,000.
Having broken 98 200s in singles during his career, Louie's shooting goal for the 2019 target year is to break two more to bring his total to 100.
On his upcoming induction, Morgan said, "It is such an honor to receive this recognition. I really enjoy this sport, where I have met many friends along the way."