Hall of Fame Inductee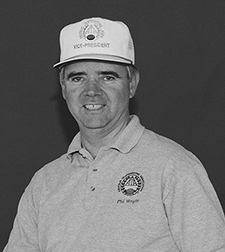 Phil Wright
Inducted in 2011
Born: 18-Sep-1948

State: NH
Phillip Wright of Hudson, New Hampshire, has earned a total of 25 individual and team trophies at Grand American tournaments from 1967 to 2008. Twice he has captured titles during Grand Week: he was 1977 Doubles champion for 99 plus 40 in shootoff, and he collected the 1981 Champion of Champions crown following 100 and 125x125. Eight times he has posted 200 straights for trophies—twice in the Clay Target Championship plus three times each in the Class Singles and the Dayton Homecoming. In 1976 he had 200s in all three 200-target events, winning runnerup in the Dayton, fifth-place AA honors in the class, and Zone Champion of Champions in the Clay Target. He also led the East to a 990x1,000 victory (one off the record at that time) in the Zone Team Race.


In 2002, the year he served as ATA President, Wright earned 20th-place honors in the Grand American Handicap while longtime friend and fellow ATA Delegate Dennis DeVaux of Vermont won the overall title.


Phil has won awards at the Spring, Southern, Northeastern and Midwestern Satellite Grand Americans. He tied for the 1983 Southern singles title, finishing second in the tie-breaker and taking the Class AA trophy. Top-five place awards were his in the 1985 Southern and 1999 Spring championship handicaps.


His state shoot ATA championships number 61, beginning with the 1963 junior title. In 1991 he swept the four major crowns, while eight times between 1967 and 1981, he earned three of the four. In all he has won 13 singles (including 1965's while still a junior), five handicap, 15 doubles, 25 all-around and three junior.


At Eastern Zone tournaments between 1970 and 1993, he has been singles champion once, doubles titlist twice, and all-around winner four times.


Wright has been named to 14 ATA All-American squads, including three first team and the International Clay Pigeon team in 1973. He won TRAP & FIELD All-Around Average Awards in 1972 and 1978, and he completed his ATA Grand Slam (200x200 singles, 100 from the 27, 100 in doubles) in July 2000.


He began attending the Grand American in the late 1960s to early 1970s and was elected ATA Delegate about this time. Except for a break when he was in the service, he has been New Hampshire ATA Delegate since then. He has also served as state association treasurer since the late 1960s and has been treasurer of most of the clubs of which he is a member. He continues to cashier several of the state tournaments in New England.


A college graduate with a dual degree in accounting and computer science, Wright has been either controller, vice president of finance or chief financial officer for a number of companies.