Hall of Fame Inductee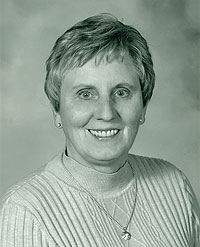 Mary Lee Van Arsdall
Inducted in 2010
Mary Lee Van Arsdall was the third woman in ATA history to break four 200 straights in singles. That achievement occurred in 1988 at the Grand American's Dayton Homecoming. At that same Grand, she also tied a 22-year record for the Women's Doubles Championship, winning with a lone 98. One year earlier she had tied a record for the Class Women's Doubles with 98. Also in 1987 Mary Lee captured the All-Around crown – four targets ahead of all women − and she also set a record for the Women's High- Over-All for all previous Grands, but that same day she was second after a higher record came in. Mary Lee broke 100 straight from 25 ½ to be the 28th woman to earn the 27- yard line, in 1983. She was the 12th woman to hit 100 from any yardage, and her straight set the longest yardage record of any woman with a perfect handicap score.
October 1972 was her first ATA competition, with just 200 singles and 200 handicap. The next year she registered 6,950 targets in all three venues. In 1974 Mary Lee was the ninth woman in ATA history to break 200, winning at her Kentucky State Shoot over the Class A men. First came 99 in the open singles race, followed by the historic 200, and then tying the women's state record of 197. Among those 496x500 16s, she had a run of 272. Mary Lee also won women's awards in handicap and doubles. More women's singles wins were in 1981, 1983, and 1991. After a Class D open high-over-all start in 1973, one year later she earned a spot on the first string women's 1975 All-America team, adding eight more firsts and three seconds.
Mary Lee's first of 12 Grand American trophies was the 1983 Champion of Champions title with a lone 100. In 1989 she won the prelim High-Over-All in her category, and in 1990 she was the lone woman breaking 100 in prelim singles, along with 52 men. In 1992 she was the Women's Clay Target Champion after 199 and shootoff. Major awards were won also at the 1982 Southern Grand women's doubles and the 1985 Spring Grand women's singles. She won the 1973 Southern Zone's women's allaround and open singles, and she tied for the open handicap championship, ending runnerup with 99 and 24 shootoff. In 1981 she won a two-round shootoff over three men in a singles tie at 197 in a Kentucky central zone shoot. In Ohio and Tennessee she won major awards, plus three 1988 South Carolina trophies − one for non-resident 198 singles champion and one for non-resident doubles champion with 98, second-high score in the field.