Hall of Fame Inductee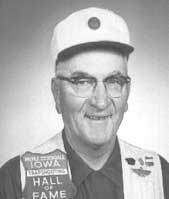 Merle Stockdale
Inducted in 1982
Born: 14-Feb-1912
Died: 26-Nov-1992
Age: 80
State: IA
Merle Stockdale of Ackley, Iowa, nine-time All-American, annexed the Champion of Champions title at the Grand in 1960, tied for it the next year, captured a trophy during the 1953 Class Singles Championship following 200, and shot on one zone and two state teams which won their respective races at Vandalia. He earned eight state titles (including one with a record-setting Iowa all-around score), captured one zone crown, and registered more than 100,000 singles targets in his 34 years of trapshooting. When the maximum yardage was extended from 25 to 27 yards at the beginning of the 1955 season, Stockdale was a pioneer on the 26 by earning non-resident honors at New Mexico State in Albuquerque on Jan. 30 while leading scoring in the race with 94 12 at Las Vegas, he shot in an early squad and broke 95. The score assured him of another yard when 97 finished high in the contest, making him the first to earn the new maximum of 27. (Arnold Riegger, 1975 Hall of Fame inductee, made it to the 27 in that same race in a later squad with a 97.)
Stockdale broke 100 in the program then another 175 in overtime to annex his Champion of Champions title in 1960. The following year he tied for the crown again with 100 but finished without a trophy in shootoff. Stockdale's straight during the 1953 Class Singles Championship led to his finishing fourth in AA after a three-round tie-breaker. That 200 was the only one on the winning Iowa fivesome in the State Team Race. He was also part of the Central Zone quintet which won the Zone Team Race in 1955 and shot again on a victorious Iowa team at the 1964 Grand.
Stockdale had to break 25 straight in overtime to win his Iowa State handicap crown in 1949 after tieing two others with 98, and he finished third in state handicap averages that year with .9328 as a first-year shooter. He annexed the singles championships in 1953, 1957 and 1960, getting better as he went along with winning scores of 196, 199 and 200, and he captured doubles crowns in 1955 and 1960. He won the all-around in 1957 and 1960, setting an Iowa record by two birds with 392 that latter year, and the same year he also won the singles and doubles but lost the handicap title in overtime after 96. A 96 gave him the Central Zone doubles championship in 1958.
Merle placed on All-America first-string teams from 1954 through 1956 and in 1961 and 1962, and he was on the second team in 1957, 1958, 1964 and 1965. He reached the 50,000 plateau in registered singles shooting in 1964, the 75,000 mark in 1972, and the 100,000 milestone in 1978—all on the 25th of the month (May, August and September, respectively). At the end of the 1981 target year, he had 109,850 singles to his credit.
In 1953 Stockdale entered the initial 200 straight in the more-than 40-year history of the Twin Cities GC near St. Paul, Minn., and he had a singles run of 720 at his own 1960 Iowa State Shoot. In the early '60s he was mentioned by Jimmy Robinson as one of a few shooters to have 10 years of 99% or better averages on 16-yard targets at the Grand American. He has won out-state championships in New Mexico, Arizona, Nevada, South Dakota, Minnesota, Nebraska and Illinois and was the H-O-A and all-around leader at the major Las Vegas shoot in 1954. In 1962 he broke 498x500 in a singles marathon at Atlantic, Iowa, and three years later he scored 499 at Cedar Rapids, just two months after the initial 500x500 had been entered in the record books.
Stockdale has been named to the All-Iowa men's team three times and the same number to the veteran's team. He was one of the initial enshrinees into the Iowa Trapshooting Hall of Fame in 1970.