Hall of Fame Inductee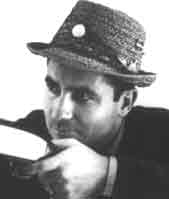 John R. Sternberger
Inducted in 1986
Born: 20-Apr-1905

State: OH
John Sternberger placed on 13 straight All-America teams from 1954 through 1966, ranging from the junior second team that first year to a captaincy of the men's team. He also captured seven straight Trap and Field All-Around Average Awards, from their inception in 1959 through 1965. He led the standings in 1960 and 1962.
In 1961 he set two records. His .9936 singles average was the highest in history on 2,500 targets or more (he shot at 3,800), and his 394x400 to win the Grand American All-Around Championship was the highest ever entered in that competition. He also became the fourth in history to win both the All-Around and the High-Over-Alt the same year. His H-O-A score, 976x1,000, was one under the record.
Sternberger recaptured the All-Around title in 1962 and was H-O-A runnerup. A year later he was Introductory Singles Champion and All-Around runnerup.
In 1961 Sternberger, Tony Biagi and Dan Orlich engaged in a 325-bird shootoff following straights in the Clay Target Championship, and John ended as runnerup to champion Biagi on a toss after he and Orlich lost one apiece. That 325-bird shoot-off was a record at the time for extra innings following a 200-bird race.
In 1958 Sternberger and Bueford Bailey each smashed 300 straight following 100 in preliminary Friday's singles at the Grand and were declared co-champions, setting a record for most shootoff targets in one day and for one race. Sternberger's final singles award at the Grand was Class AA runnerup in the 1964 Singles Class Championship following 200.
Sternberger's first twin-bird trophy at the Grand American was the top class award in the 1961 Doubles Championship for 97. (A lone 98 was high, and John lost his 98th and 100th birds.) In 1969, he earned Class AA honors on preliminary Saturday with 98.
From 1958 to 1966 Sternberger registered 100 straight in doubles five times, sharing a record with Dan Orlich for most perfect scores. Sternberger led ATA yearly doubles averages in 1965 with .9601 on 1,780 birds, and that same year he and John Michael set a doubles shootoff record when they each ran 100 (following 49x50 registered).
In the three years from 1958 to 1960, Sternberger won eight straight 500-bird singles marathons—an unparalleled achievement. In that last year, one win was with a record-tieing 499. In 1960, '61 and '63, he ran more than 700 straight from the 16-yard line each year, with his longest run of 784 coming that last year. From 1952 to 1973 he registered 128 perfect centuries and seven 200s in singles. In doubles Sternberger's long run was 224, and in handicap it was 115 from 27 yards. Both were accomplished in 1961.
In 1956, at the age of 18, Sternberger became the youngest shooter in history to reach the 27-yard line. He was the first shooter from Ohio and the 17th in ATA history to move to the maximum yardage.
Sternberger captured the Golden West Grand singles championship with a lone 200 in 1961, and he also topped them all in the high-over-all at that Reno, Nevada championship. In 1959 he was ATA Central Zone singles and all-around champion, and three years later he repeated for those titles and added the doubles.
Sternberger's initial state awards came in 1955, when he was Ohio junior singles and handicap champion. He won several state trophies in intervening years before claiming the ATA award for the 1963 doubles championship. He was the high-over-all winner in 1959, '63 and '64, capturing the ATA all-around championship for Buckeyes in 1965. That last year he made a clean sweep of his Ohio zone awards — winning the singles, handicap, doubles, all-around and high-over-all.
In 1957, he was open H-O-A winner at Illinois State, and in 1958 he won the Rock Jenkins Memorial Trophy at Indiana State for 498x500 singles. From 1957 to 1965 he earned major awards in those states and at ATA Southern Zone championships, including open high in the singles, doubles, all-around and high-over-all at the 1960 Southern Zone tournament. He also earned numerous titles at the Mid-American Championships in Middletown, Ohio.
John Sternberger won the famous World's All-Around Championship (over targets and flyers) at Jenkins Bros. in Orleans, ID, in 1967 and 1970.
John registered targets for the first time in 1952—400 singles and 100 handicap. Two hundred of those were in the Clay Target Championship. A sub-junior, he hit 180. Twenty years later he had registered 60,300 singles targets with a .9774 average, 32,200 handicap (most from 27) with an .8991 average, and 23,330 doubles with a .9320 average.
After the placement on the All-America junior second team for 1954, Sternberger was on the junior first team the next two years and on the men's second team for two years after that. His eight straight years of placement on the first team—from 1959 through 1966—included the captaincy in 1962.