Hall of Fame Inductee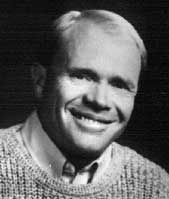 Ray Stafford
Inducted in 1988
Since he began shooting in 1965, Ray Stafford has earned 59 Grand American trophies, 35 state and four ATA zone titles, six Golden West Grand crowns, and four championships each at the Spring Grand and Midwestern Grand. He has led ATA singles averages five times, the handicap four years, and the doubles once, and has collected eight Trap & Field All-Around Average Awards.
Stafford's record .9801 all-around average in 1987 broke his former high of .9766, achieved both in 1985 and 1986. He surpassed his own record handicap of .9554 in 1984 with .9572 in 1986 and with .9648 in 1987 to maintain the four-year stranglehold on the top spot in the ATA. (His '85 mark was .9515.) All were 27-yard targets, and his totals ranged from 3,600 to 6,800 yearly.
Ray has been a member of two perfect 500 squads, both at the Grand American, the first during the 1982 Dayton Homecoming followed by another in the 1983 Champion of Champions race.
During a preliminary doubles race at the 1983 Grand American, Stafford won an overtime session from Drew WaIler, and their eight rounds set a record for the longest twin-bird tie-breaker in history. Stafford won with 160 straight. That same year he set an amateur doubles long run of 461. Stafford has 31 100s in doubles to his credit.
Among his Grand American wins, his first Clay Target Championship came in 1976 when he smashed 200 in the program and 175 in shootoff. He repeated as Champ in 1984, again with 200 in the race but needing 225 extras in the shootoff. His first All-Around crown was for 390 in 1973, and the second was for a record-tieing 396 in 1981 after a perfect 40 in shootoff. Stafford won the H-O-A by two birds with 979x1000 in 1981, by one with 978 in 1982 and by seven with 980 in '85. Ray downed 99 from 27 yards and smashed an additional 50 straight in shootoff to capture high-gun honors in the '85 President's Handicap. He earned the Zone Champion of Champions crown during the '75 Clay Target race with 200 (ending third in the Clay Target Championship) and he won the '81 Dayton Homecoming with 200 plus 125 in carryover. In '72 he was AA victor in the Singles Class with 200 in the program and 200 more in overtime.
Stafford attended his first Grand in 1968 and won his first trophies two years later. Thirty-two of his 59 Grand awards have been earned during championship days. He has captured a total of 19 singles, 16 handicap, seven doubles, three state Champion of Champions, one zone CofC, three All-Around, seven H-O-A and three International prizes at Vandalia.
His Golden West Grand titles from Reno, Nevada, include 1975 and 1986 Handicaps with scores of 97 and 99; 1977 and 1986 doubles with 98 and 99; 1985 and 1987 all-around with scores of 396 to tie, and 397 to break the record; 1980 Preliminary handicap with 99 from 27 yards, and high-over-all in 1986.
In the Spring Grand in Phoenix, Ray has won the handicap with 98 and 99 in 1981 and '86; 16-yard in 1982 with 200 straight, and the all-around in 1981 with 395x400.
Stafford's Midwestern Grand victories in El Reno, Oklahoma began in 1981 with the doubles (97x100) which he repeated in 1982 with a 98. The same two years he won the all-around with 385 and 395, the latter after 40 straight in shootoff with Hall of Famer Britt Robinson beating the former record by three targets. The mark still stands.
His first Colorado state championship win was the doubles in 1971 with a 98. Since then he has earned eight more twin-bird titles, including five for 99s and one for 100; seven singles crowns, five with 200 straight, between 1973 and 1987; six handicap wins since 1973, twice each with 100, 99 and 98; and 13 all-around titles since 1972. In 1978 Ray matched the ATA state competitor all-around record of 397x400 while winning in Colorado, and his 398x400 in 1982 established a new record. Three years later he again totaled 398 while winning the doubles title with 99 and the handicap with 100 from 27 yards.
He is one of six who have scored 399x400 in the all-around at any ATA tournament, having accomplished it twice. The first was during the July 1986 Mile-High tournament in Colorado and the second the following year at the Utah State Shoot.
His zone wins include the 1975 Western Zone singles title and three championships from the Southwestern Zone (doubles with 99 and all-around with 396 in 1981 and the all-around with 394 in 1983 (Colorado moved from one zone to another; Stafford's residence did not change.)
In 1972 Ray earned a spot on the All-America second team and he has had a berth on the first team for the 16 years since. He was co-captain in 1977 and captain in 1982, 1986 and 1987. He was named to the International All-America team in 1970 through 1972, captaining the squad in '71.
Stafford shot with the Army Marksmanship Training Unit in the late '60s and the early '70s. He earned the U.S. International Championships in 1968 with 293x300 and again in 1970 with the same score. He represented the U.S. in trapshooting during the 1968 Olympics in Mexico City; was a member of the silver medal team at the 1969 World Championships in Spain, and shot on the winning team which set a record of 579x600 at the 1970 World Championships in Phoenix. Individually, Ray nailed down the bronze medal in the 1970 World Championships after a record tieing 197, and that same year he was champion of the Grand Prix of Europe with a 196.
A resident of Denver, Colorado, Ray has served on the ATA Board of Directors since 1983. He was inducted into his state's Hall of Fame in 1982.