Hall of Fame Inductee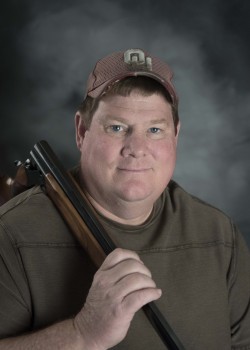 Pat Stacey
Inducted in 2018
Few ATA shooters begin their ATA careers by participating in a 500-bird doubles marathon, but that is what Patrick Stacey of Frederick, OK, did. In 1993 he was invited to Kinsley GC in Kansas for the marathon shoot. It was there that Stacey won his first trophy, a novice award for a 95 on the third 100.
It took only four years for Pat to capture his first state title, the all-around, a feat he has accomplished 12 times since. He also has 12 singles, two handicap and 10 doubles crowns in his collection. His 2009 handicap win was with a perfect score, making him the first resident in 55 years to break them all in the state Handicap Championship and one of only three to do it ever. That score also completed his ATA Grand Slam.
Pat won the Clay Target title in 2003, after tying for the championship the two years prior. After the seventh of 11 rounds in a two-night shootoff, the tie-breaker was down to three. All remained perfect for three more innings, then in the 11th, the other two missed back to back. Pat said he knew then it was his to lose, so he tried not to think about what the others were doing. He finished without a miss.
Seven years later, he captured the title again, adding his name to an illustrious list of those winning this crown more than once. That time he needed 300 extras to defeat the 30 others with perfect scores in the program. That year he posted double-centuries in all three of the Grand's 200-bird events, missing just two of the 1,325 singles targets (including program and shootoff) he fired at during the tournament.
Pat was part of winning Zone teams in the 2008 Doubles Championship and the 2008, 2009, 2011 and 2012 Clay Target Championships. He was Zone Doubles Champion of Champions in 2016. In all, Pat has broken 21 200s in Grand American competition and 12 100s in doubles.
He has won two Southwestern Grand titles: the 2014 singles and 2017 doubles. He tied for the doubles again this year, ending second after shootoff. His Southwestern Zone championships include the 2010 all-around, 2015 doubles and 2017 singles.
Pat has earned spots on the open All-American team 13 times since 2004, including three first-team placements. He reached AA-27-AA status in 1999 and has tallied singles averages of 99%+ 13 times in the last 16 years.
Pat is operations manager at an elevator co-op. He also enjoys hunting coyotes and going to University of Oklahoma football and basketball games. Before he had kids, Pat shot all summer and winter, but now he takes winters off to spend with his family.
Regarding his induction into the Trapshooting Hall of Fame, Pat said, "It was a dream, but you never think you'll get to that point." On the day after the banquet, he and wife Kendra will celebrate their 31st wedding anniversary. It is rare that they get to celebrate together, as Pat is usually at the Grand while Kendra is home.