Hall of Fame Inductee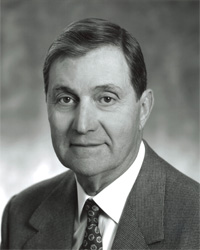 Lawrence Russo
Inducted in 2013
Born: 29-Aug-1942

State: NJ
Larry Russo and his brother Gerry (2008 Trapshooting Hall of Fame inductee) were in the business of constructing large industrial buildings and in 1971 had a job near the Sportland Gun Club in East Rutherford, N.J. They decided to give the game a try, and after a year they began registering targets.


Larry went to the 1973 state shoot with the goal of winning the handicap. Shooting from 22.5 yards on the first squad of the day, he didn't win, but his brother did. Six years later Larry earned it, with 99 from the 27. He'd won the singles the previous year, with 200, and the doubles titles were his in 1981 and 1983.


Having won more than 25 trophies in Grand American competition, he considers his career highlight to be capturing the 1990 All-Around championship in shootoff with Trapshooting Hall of Fame enshrinees Kay Ohye and Frank Little. That year Russo also tied for the Doubles crown, ending with AA runnerup honors, and placed 12th in the Grand American Handicap.


The Russos have won the Grand's Brother-Brother title 11 times, establishing the record of 400x400 in 1976. Larry was also AA runnerup in the event, the Singles Class, for his 200 straight. Four years later, the brothers shot together on a 500 squad during the Grand Singles Class Championship along with Ohye, William Anzaldi Jr. and Gene Pepe. The Russos repeated as Brother-Brother champions that year, again with a perfect score. Later, at the 1993 Virginia State Shoot, the brothers and Ohye were on another 500 squad with Larry's son Edward plus Deborah Ohye-Neilson. The Russos are one of four families with four All-Americans: Larry, Gerry, Edward and Gerry's son Dan.


Larry has five ATA Eastern Zone titles to his credit from 1977 to 1994, including two singles with 200 straight, one doubles with 100, and two all-around. In Great Lakes Grand American competition, he earned Class AA honors after a tie for the 1990 singles crown plus the AA trophy in the 1992 feature doubles contest. At the Northeastern Grand since 2000, he has won AA awards twice in the main doubles and twice in the HOA, and he was veteran singles champion in 2009 and 2010.


Between 1976 and 1991, Russo earned places on seven All-American teams. With more than 30 200s in singles during his career, he had singles averages above 99% in 1980 and 1982. With 100 in doubles in May 1976, he was the 10th shooter in ATA history to complete his Grand Slam. He was inducted into the New Jersey trapshooting Hall of Fame in 2004 and the Eastern U.S. Hall of Fame the following year.


As of early July 2013, Russo had registered career totals of 129,200 singles, 95,050 handicap and 83,630 doubles targets.