Hall of Fame Inductee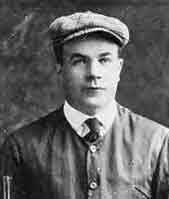 Hank Pendergast
Inducted in 2007
Born: 23-Oct-1883
Died: 30-Mar-1957
Age: 73
State: NY
In his 1942 book, "Trapshooting and Skeet," Jimmy Robinson wrote about "the famous Hank Pendergast of Phoenix, N.Y., a money shooter, if there ever was one. Hank stood on 22 yards, as he was one of the greatest shooters in the country." The occasion was the 1918 Grand American Handicap, where Pendergast was leading with a 97. He was tied, however, and about the shootoff, Jimmy reported that Hank, who was "quick and confident, snuffing out his targets, looked like a sure winner." But, "a moving picture machine was touched off right at Hank's ear and he lost two targets." He ended runner-up by one.

Between 1916 and 1929, Pendergast collected nine Grand American trophies. In 1916 he tied for sixth place in the GAH, ending runner-up in the 22-yard category with his 96. (The 23-yard line was farthest back in those days.) In addition to Hank's 1918 Grand runner-up trophy, he was champion with a lone 198 in the South Shore Introductory Singles, where all shot from l8 yards. That 198 was the second-highest ever recorded in the history of that race. (A year before, Frank Troeh had hit 199.) The American Shooter magazine reported that for the week's shooting, Hank had won over $1,000–more than any other shooter competing.
In 1920 Pendergast was third in the l8-yard championship with 197 and a two-round shootoff. Six years later (with that race now called the Class Championship), he was breaking 199 and ending runner-up in A after a carryover.
The Grand of 1927 was a good one for Hank. He hit 200 straight to win the Class A Championship, he placed fifth in the GAH with 96, and he finished third on the 1,000 major targets (then called the Governor's Cup Race). There were four 200 straights in that singles race, breaking the Grand record of two. For his fifth-place finish in the GAH, he had to win over six others with 96. The Cup Race consisted of 600 singles, 200 handicap and 200 doubles.
In 1929 he repeated for the Class Championship Class A award, with a 199 that was two targets higher than any other in the entire race. (The three with 197 AA have all been inducted into the Hall of Fame prior to Hank's enshrinement.)
Pendergast was on the five-man winning American team in the 1917 competition against the Canadian team at the Canadian National Exhibition. Yearly honors in 1918 included earning third-highest singles average in the association, placing on the 10-man All-American Trapshooting amateur team, and leading Eastern shooters in that annual counting. (Frank Troeh was highest for the West. He too is a Hall of Famer.) That year also marked Hank's fourth consecutive championship in New York State singles competition. He started his run in 1915 with 97, set a state record with l00 in 1916, followed with another l00 in 1917, and finished the four crowns in a row, with a 99. That 1916 state shoot record was included in a long run of 223. In 1924 he won New York state doubles and all-around titles, and in 1929 was state singles runner-up. He was runner-up singles champ in the Eastern Zone competition in 1928.
Pendergast operated a large dairy farm in his home state. He was active in trapshooting for more than three decades, and he died in 1957.