Hall of Fame Inductee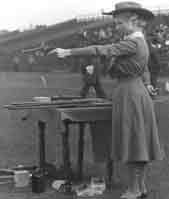 Annie Oakley
Inducted in 1969
Born: 13-Aug-1860
Died: 3-Nov-1926
Age: 66
State: OH
While still a little girl being reared in her frontier home near Greenville, Ohio, Annie Oakley would take to the field with her gun and bring in enough game so that her mail-carrier father could trade it at the country general store for ammunition, groceries and other necessities.
Annie Oakley was born Annie Moses on Aug. 13, 1860. She learned to shoot at the age of eight with her father's old 40-inch cap and ball Kentucky rifle. In the fall of 1875, when she was 15, she was invited to take part in a shooting match in Cincinnati against Frank Butler, a champion marksman. Butler thought it was a joke, but he was more than convinced that it was no farce when young Annie beat him fair and square. A year later Miss Moses became, in private life, Mrs. Frank Butler. When Annie joined Frank's shooting act, she became Annie Oakley.
The Butlers—Annie and Frank—joined the Four-Paw and Sells Brothers Circus in 1880 as a shooting act. They met the great Sioux Indian chief Sitting Bull in St. Paul, Minn. in 1882, at which time Annie was adopted into the tribe as "Mochin Chilla Wytonys Cecilia," which is the Sioux Indian name for "My Daughter, Little Sure Shot." Two years later the Butlers joined the Wild West Show and traveled with Buffalo Bill Cody's group for 17 years. Annie broke her first 100 straight at trap in a match race in London in 1887, setting a club record.
Annie Oakley is personally credited with saving the Wild West Show during its 17-month tour of Europe. During that time Annie was giving two performances a day, seven days a week. When it seemed the show was doomed because of financial failure, Annie took $8,000 of her savings to rescue it.
She performed her magic with guns before seven crowned heads of Europe in one day, and among her treasured trophies was a cup of solid silver awarded by Edward VII, who was Prince of Wales at the time. It was enscribed "You are the best shot I have ever seen." An idea of her value may be better understood when it is realized that she commanded and received $700 a week during the tour of Europe. She also won $9,000 in two years of trapshooting, during a time when money was hard to come by and her appearances at tournaments were limited.
After a near-disastrous train wreck while with the Wild West Show, Annie retired to private life in 1901. It was more than a year before she was able to leave the hospital and to resume some of her shooting activities.
One of Annie's pet tricks at Pinehurst, N.C., where she taught hundreds of women the art of marksmanship, was to lie on her back, have her husband throw six glass balls in the air at once and she would empty the entire contents of three double-barrel shotguns, breaking all six targets before they reached the ground.
A car accident in 1921 left Annie in a brace for the rest of her life, but she still came back to break 100 clay targets the following year at Pinehurst. During her 30 years of shooting, Annie Oakley fired well over a million shells. She won over $100,000 and numerous trophies during her shooting career. A year before her death—at the 1925 Grand American—Annie obliged some of her friends and shot a race, breaking 97x100. She died in Greenville, 0hio on Nov. 3, 1926.