Hall of Fame Inductee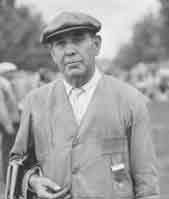 Charlie Newcomb
Inducted in 1999
Born: 1-Jan-1874
Died: 18-Dec-1947
Age: 76
State: PA
Charles Newcomb was a veteran of nearly 50 years "at the traps," according to Sportsmen's Review. He started competing in 1901 and became one of the most prominent clay-target shooters in the early part of the 20th century, collecting over 1,000 prizes during his career.
Among Newcomb's accomplishments were winning the World's Championship Cup in Atlantic City in 1910 and capturing the Clay Target title at the 1915 Grand American in Chicago with 99x100.
The Pennsylvania shooter set two world records. In 1914 he broke 494x500 during a three-day tournament in Pittsburgh. On July 7, 1916, he was part of a record-setting squad of 497x500, besting by one the previous high mark set in 1907.
Newcomb's first trophy in Pennsylvania state competition came in 1907, when he was a member of the victorious three-man team. In 1914 he won all but one event at the state tournament. Newcomb captured two singles championships in 1915 with 98 and 1918 for 97. He secured the doubles titles in 1931 and '33, when he was also the all-around champ.
His numerous other awards included top honors in the 1910 Interstate Association Eastern Handicap plus first-place singles laurels in the 1912 and '32 Westy Hogans tournaments. In 1914 he won the Indoor Championship at Madison Square Garden in New York City. That year he was victorious in the Pennsylvania State Challenge Championship and a challenge match at 18 yards with Jesse Griffith.
In 1917 Newcomb was the Canadian National Exhibition champion. At New York Athletic Club tournaments, he collected the top doubles trophy in 1927 and high-gun handicap honors the following year.
Newcomb held the high state singles averages six times from 1913 to 1922, and his 1913 average of .9527 was second in national ranking. Newcomb also led singles averages in the Philadelphia Trapshooting League four years between 1905 and 1915. He was average leader at several tournaments and clubs, including the Pinehurst Midwinter. Eastern Handicap, Westy Hogans, Southern Handicap, Boston Athletic Club, Quaker City GC, Penn Athletic Club and two state shoots.
Throughout his shooting career, Newcomb was active in the Pennsylvania State Sportsmen's Association. He was one of the founders of the Quaker City Gun Club of Philadelphia in 1920.
In addition to trapshooting, Newcomb was also a talented basketball player. He was a guard on the Camden Electrics team in the National League, the first organized professional basketball league.
A prominent businessman, Newcomb worked for a large iron and coke firm. He passed away Dec. 19, 1947, at the age of 73. Newcomb, who was known for his dignified style of shooting as well as for how many titles he won, was inducted into the Pennsylvania Trapshooting Hall of Fame in 1991.