Hall of Fame Inductee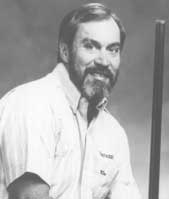 Dan Bonillas
Inducted in 1994
Born: 7-Feb-1947

State: CA
Dan Bonillas was 20 years old when he began shooting trap in 1967. He was named to the All-America team for the first time five years later and remained an All-American for 22 straight years, earning captain positions in 1967, 80, and '83, and co-captaincies in 1975, 78, 79, and '81.
A record-setter over the years, Dan ran 1,600 singles in 1975, a long run mark that remained intact until 1988. Also in '75 he tacked up the leading 27-yard run of 275, and in '79 he established a doubles string of 361. In 1992 he became the only person to smash 500 straight doubles in a race of that length.
Dan has earned 56 Grand American trophies, captured four Spring Grand titles, amassed 30 Golden West Grand crowns, and won 13 Western Division (Zone) and 21 California state championships. He set records in the Grand American High-Over-All and All-Around, turned in association-leading averages 19 times, qualified for 18 consecutive Trap & Field All-Around Average Awards.
Bonillas won his first Grand American trophies in 1972—AA runner-up honors in the class singles for 200 plus extras, and the Champion of Champions crown for 100 plus 200 carryover and a forfeit. In 1975 he posted the first 100 from 27 entered on the Grand grounds, winning Preliminary Friday's handicap. He had another 100 from 27 in '81 to pace what is now the Budweiser Handicap on Thursday of Grand week.
He captured his first High-Over-All prize in 1973 placing third. He won the championship in 1975, '78, and '83. His 984x1000 in 1975 set a record on the present distribution of 400 singles, 400 handicap and 200 doubles targets. He was All-Around champion in '82 and '85 and runner-up in '79, with his 398 in 1982 a new mark. He captured the Doubles championship with 99 and
20 extras in 1982, and he placed second after 100s plus two overtime innings in both 1983 and 1985. His 99 and 25 in shootoff won him the 1983 Vandalia Handicap crown.
At the 1980 Grand American Dan hit 994 straight singles from Preliminary Thursday through the 94th bird in Wednesday's Clay Target Championship. Along the way, he secured the top award on Preliminary Thursday for a lone 200 plus first-place prizes on Friday (100) and Saturday (100) and runner-up laurels in Sunday's Dayton Homecoming (200), all after carryover. He has earned 16 additional awards during prelim days, including five for perfect twin-bird centuries.
In the 1978 Spring Grand American Doubles Championship, Bonillas posted a lone 99 for the title. He needed tie-breakers before winning again in 1979 after 100 and 1982 following 99. His 389 was good for all-around crown.
He has amassed more Golden West Grand American championships than any other, among them the coveted all-around 7 times, and high-over-all 10 times in an 11-year stretch (1972-1982).
Dan has won innumerable championships in the A.T.A. Western Division (Zone) in all categories. He won the 1977 Singles Championship after a long shootoff, and won the title outright in 1980, and '84, all three times with 199. He's also earned three doubles, one handicap and six all-around crowns, with his 397 in 1977 setting a record not matched or surpassed until 1988.
Dan has taken home four California singles titles for 200 and also won the doubles six times — — his 100 for the 1974 twin-bird crown being the first in the Golden State record books. His '86 and '92 victories were also with perfect scores. He has captured 11 all-around championships, a number unmatched in the State. His 395 tied the record in 1975, and he set a new mark of 397 four years later. That total was not equaled until 1985, when Dan broke 398 — which has been entered once since, but not topped.
Bonillas headed A.T.A. yearly handicap averages on six occasions between 1975 and 1988, with his .9515 on 8,000 targets in 1977 setting a record. All marks were from 27 yards.
No one has headed yearly doubles averages more than Bonillas. He has topped the list 13 times since 1974, and he set records of .9795 on 4,100 targets in 1974, .9800 on 5,050 in 1981, .9802 on 4,250 the following season and .9866 on 2,250 in 1984.
Among his 18 consecutive Trap & Field All-Around Average Awards starting in 1973, 10 were for first place — 1974 through 1980, 1982, 1984, and 1988.
At the end of the 1993 shooting season, he had entered 94 perfect centuries in doubles, more than any other shooter in history. He also had eighty 200 x 200 singles scores (including 20 at the Grand American) plus twenty-six 100s from the 27-yard line (second in lifetime standings).
A former junior college quarterback whose team reached a number one ranking, Dan was inducted into the California Trapshooting Hall of Fame in 1990.