Hall of Fame Inductee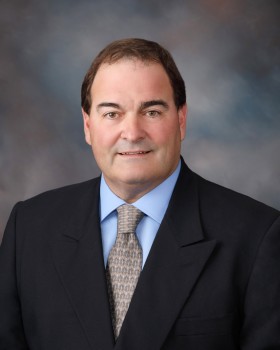 Fred Nagel
Inducted in 2018
Introduced to the sport by his dad Joe, Fred Nagel first shot trap when he was eight years old. He registered his initial targets in 1974 at age 10, winning his first trophy at Epiphany GC. In 1978 he captured South Dakota's sub-junior title, with his 197 besting the former category record by six.
Fred captured the state junior crown three straight times starting in 1979, the last one with a record 199. Fred won the state all-around title over the field for the first time in 1981 at age 17, and he has done it 16 times since then. He also has six singles, one handicap and eight doubles crowns to his credit.
Winning the Grand Doubles title in 1999 over a record field of 2,933, Fred was posting his second 100 in doubles at the Grand. With a perfect score in the 2017 championship, his total now stands at 20, placing him eighth on the career leaders list.
His other top awards from the Grand include the 2003 Champion of Champions and 2011 and 2012 Doubles Class Championships.
He broke his first Grand American 200 during the 1980 Clay Target Championship, where he and his dad became the first father and son to post double-centuries in the same Grand event. Fred's perfect score earned him the junior title. He also captured the junior crowns in the 1979 and 1981 Champion of Champions. In all, Fred now has 16 200s in Grand competition.
He was part of the winning state team in 2006, 2009 and 2014 plus the victorious Zone doubles team in 2013. He was also on a squad that posted a Grand record-tying 998x1,000 in 2013.
During the 2008 Grand American, Fred led both of prelim week's High-Over-Alls and paced two of the three Super 500 events. His 2,463 total on the tournament's 2,500 targets paced all competitors.
Fred's Satellite Grand titles include the 2012 Southwestern HOA, 2012 Spring HOA and 2013 Spring all-around.
Since 1994 he has tallied a singles average of at least 99% 22 times, and he has had a 97%+ all-around average every year since 2005. He won his first TRAP & FIELD All-Around Average Award in 1980 as a junior and collected men's awards six times between 2006 and 2016.
Fred reached AA-27-AA status in 1995 and completed his ATA Grand Slam in 2001 with 100 from the 27-yard line.
Making his debut as an All-American in 1981 as junior co-captain, Fred was part of that squad again the next year. He has earned open berths 20 times in the last 21 years.
Fred has two sons, Joseph and Chris. Both have shot registered targets, with Chris still being an active in the sport. Fred did not shoot much during his college years. He attended Dakota Wesleyan University and studied accounting. He now owns the family's painting business.
Surprised when he learned about his upcoming induction, Fred said that Leo Harrison had suggested he submit an application, but he never did. Unbeknownst to him, Bob Felber had done it for him. "What bigger honor is there in this game?" Fred said, adding that it recognizes his longevity in the sport.