Hall of Fame Inductee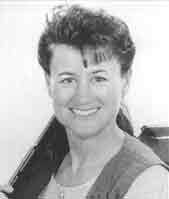 Nora Martin
Inducted in 1999
Nora Martin started shooting with a BB gun when she was about four years old. She became interested in trap at age 12, when she went to a dove shoot with her dad. Nora's father bought her an over-under at the 1974 Kentucky State Shoot, and she began attending turkey shoots and protections with her dad and uncle Larry Harney, a county sheriff. (They won about $2 each at their first one.) In 1975 Nora shot her first registered targets, and the following year she won the first of her 105 Grand American trophies—the junior Class B award in the Class Singles with 194.
The first of Nora's seven women's Clay Target titles came in 1982, when she was also event runnerup with 200 plus 299 in overtime. Her '87, '93 and '98 crowns were also following 200s. Nora finished second among ladies in the CTC in '91 and '97, both for 200.
In Singles Class competition, Nora has collected 14 women's trophies. She was category champ 10 times, including eight with 200s; was ladies' runnerup three times; and placed third in Class AA with 200 plus 249 extras. Nora has been a member of winning Kentucky state teams four times.
Nora has earned the women's crown in the Dayton Homecoming seven times, including the one in 1985 for 200, and she has picked up 10 prizes in preliminary singles races.
Since 1981 Nora has captured the women's All-Around title seven times and the HOA crown 11 times. Nora has won 15 trophies in Champion of Champions races, including the event titlist award in the 1987 contest with 100 plus 200 in carryover and 25 in shootoff. She finished first among women eight times, was runnerup three years, and placed third in the category three times. Nora earned the Zone CofC crown in '82 and the ladies' Zone CofC title in '98, both for 200.
In Grand handicap competition, Nora was women's runnerup in the 1991 GAH. In addition, she placed second among ladies in the '90 President's Handicap, earned women's honors in the '92 Trap and Field Handicap, and finished ninth in the '93 Vandalia Handicap. She also picked up two preliminary-day prizes.
In the 1990 Doubles Championship, Nora became the first woman to earn a Grand championship ring, besting all shooters with 100 and 120 in shootoff. She was the women's titlist in '81, '82, '84 and '93. In additional twin-bird competition, Nora has collected eight category awards in class races, including the title for 100 in the '93 contest, and five in preliminary events.
Nora has won more than 150 Satellite Grand trophies. Her 50 Spring Grand awards include eight at this year's tournament (1999), where she captured the all-around championship over all competitors plus the women's titles in the three feature races and the HOA. Her singles crown was following a 200 and a 14-round shootoff for the championship.
The first of Nora's eight Spring Grand women's singles titles came in 1984, when she also earned fourth-place and category honors in the main handicap. She again paced women in the '97 Handicap Championship.
In addition to the 1999 Spring Grand, Nora has netted the women's doubles crown six times, the all-around seven times and the HOA once.
At Southern Grand tournaments, Nora has collected 63 awards, including the singles championship in 1990. She has collected top women's honors in the event 10 times, the Class AA trophy in '91 and the category runnerup trophy this year. In handicap competition, Nora led women in the title race in '82 and the Budweiser Handicaps in '90 and '92. Including this year's shoot, she has netted ladies' crowns in the Doubles Championship seven times and the all around II times.
Nora's 12 Dixie Grand trophies include eight women's titles—three singles, one doubles, three all-around and one HOA. At Great Lakes Grands, Nora has earned nine category crowns—two singles, one handicap, two doubles and four all-around. She was also Class AA runnerup in the 1994 Doubles Championship.
At the Midwestern Grand, Nora collected six awards, including the women's doubles and all-around crowns in 1985, and she took home four trophies from this year's Southwestern Grand.
Among Nora's 99 trophies in ATA Southern Zone competition are 22 titles, including four event championships and 13 women's singles crowns. At the '82 tournament, she posted a 200 straight to become the first woman to capture the Singles Championship, and she netted the women's title as well. Nora repeated as event and women's champ in '84, when she hit 200 plus 200 in shootoff, and in '85, also with a perfect score. She captured the '93 singles title over all competitors with 200 plus 225 extras. Nora's 10 additional women's singles crowns include her first in 1977, when she was also the junior champ. In '87 she snared the ladies' doubles, handicap and all-around crowns, and last year she was the women's doubles champ as well.
At her Kentucky state tournament, Nora has collected 141 awards, including 28 titles. She captured four event championships—the singles in 1987 and '91, both for 200, and the all-around in '82 and '93. The first of her 20 women's titles came at her first state shoot in 1976, at age 14. She won the women's, junior and sub-junior crowns with 191 plus five other awards. She repeated as both the ladies' and junior titlist in '78 and in '79. In the latter year, her 198 matched the junior record, a high mark which still stands.
In addition to Kentucky, Nora has competed in 20 other state shoots. At the 1982 Indiana tournament, she was the non-resident HOA winner. Nora was also the out-of-state HOA victor at the '85 Ohio State Shoot, and the following year, she earned the top visitor's trophy in the main singles with 201) plus extras. Awards at other state competitions include one during the '78 West Virginia Singles Championship, where she registered her first 200 and won a shootoff for the top non-resident trophy.
Among her additional trophies are 39 at the Golden West Grand.
In 1978 Nora began her string of 22 consecutive times on All-American teams. The first two years she was named to both the junior and women's teams. She has served as ladies' captain 13 times and co-captain twice.
At age 21, Nora became the 23rd woman to move to the 27 when she earned a half yard at Deer Creek CC, Marion, IN, Sept. 6,1982.
This year Nora received her 21st consecutive Trap and Field all-around average award, which includes 17 first-place honors and a record .9702 in 1993. She has been the women's yearly average leader in singles 18 times, in handicap six years and in doubles 14 times. She holds the women's record in each discipline—.9962 in singles in 1993, .9441 in handicap in '92 and .9772 in doubles in '93.
During her career, Nora has posted 200x200 in singles 56 times, and she has shattered 100 in doubles on 16 occasions.
At the end of the 1998 target year, Nora had registered 97,700 singles targets, 81,250 handicap and 52,050 doubles.