Hall of Fame Inductee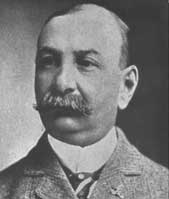 Thomas A. Marshall
Inducted in 1969
Born: 26-May-1856
Died: 18-Aug-1922
Age: 66
State: IL
Thomas A. Marshall is the only man ever to win two Grand American Handicaps—both of them at live birds, in 1897 and 1899. He also tied for the same title in 1900, but lost in the shootoff.
Marshall not only was one of the greatest trapshooters at the turn of the century, but was also a very able politician. He served as mayor of Keithsburg, IL. for 16 years and represented his district for two terms in the state legislature.
Marshall was reared in the Mississippi swamps, shooting ducks, snipe and other small game until he was proficient in handling the shotgun. He began firing in outside tournaments at both wild and tame pigeons. His first experience in trapshooting came in 1875 when he won the Mercer County Cup. He was a member of the northern team that shot on a tour of the southern states in 1895. Marshall also was a member of a western team that attended the Grand American at live birds in 1897, and he was the only man able to post 25 straight, thus giving the West its first Grand American winner. He again posted a perfect score in 1899 as a member of the western team, but he had to win a shootoff with seven others to become the only man to win two Grand Americans at live birds. It took him 58 straight hits to accomplish the feat.
When the 1901 ream was organized to tour Europe, Marshall was selected as its captain. Marshall, gifted as a writer and a speaker, reported fully in the magazines of the day on the tour that took him to England, Ireland, Scotland, France and Belgium. He also captained the team of industry representatives that toured the South in 1904. That team, at Palestine, Tex., broke the worlds squad record with the score of 488x500.
Marshall did his part to encourage the sport of trapshooting as a writer for the Chicago Examiner and also as a columnist of the Sportsmen's Review. Tom might have been influenced to accept the task of enlightening the general public about shooting by a report that appeared after his 1897 triumph in the Grand American. A newspaperman reported the victory as follows, under the supposition it was a horse race: "The winner of the Grand American Handicap was Tom Marshall, owned by Major Keithsburg, of Illinois." (Tom was mayor of Keithsburg at the time.)
Marshall was one of the organizers of the "Okoboji Indians" group of trapshooters and was their "Chief Long Talk." He held the position of High Chief for 23 years.
At the time of his death on Aug. 18, 1922, Marshall was a vice president of the American Trapshooting Association.