Hall of Fame Inductee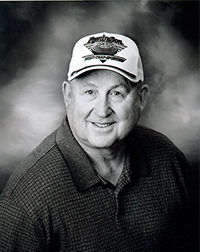 David Berlet
Inducted in 2011
Born: 9-Jun-1942

State: OH
David Berlet of New Knoxville, Ohio, started registering targets in 1957 and since then has attended every Grand American as a competitor. He has earned more than 35 individual, team, and two-in-family trophies at the world championships.


His biggest individual win was the 2000 Clay Target Championship, for 200 plus 75 straight in a 20-way tie-breaker. He has tied for the title five more times and earned awards three of those years, placing third in the field in 1969, taking the top AA award in 1993, and finishing in the second-place veteran spot in 2009. In all, he has logged 200 straight 20 times in Grand competition.


Berlet was also runnerup in the 1961 Grand American Handicap, finishing first in a six-way shootoff of 98s with 49x50 extras; AA runnerup in the 1970 Doubles Championship; and veteran runnerup in the 2008 Doubles Championship.


He and Ned earned six Brother-Brother titles from 1958 to 1987, while he and stepson Dirk Meckstroth collected four Parent-Child crowns from 1989 to 2002, the last one for 400x400. Four times Dave was on the winning Central squad in the Zone Team Race (1974, 1983, 1985 and 1993), and twice he was part of the Ohio group which won the State Team Race (1976 and 1990).


In 1983 he earned the Central Zone singles crown after 200 in the program and 16 extra innings, which tied the one-day shootoff record at the time. That year he went on to win the Grand American Zone Champion of Champions title. In 1985 Dave recaptured the zone championship, this time with 200 and 100 straight extras; in '88 he was Class AA winner after 200 and a 725-bird shootoff, which remained the all-ATA record until 2008. In 1987 he was Zone handicap champion, and in 2008 he earned the veteran singles crown.


Berlet was Ohio's junior champion 1959. Six times he has won runnerup or Class AA trophies in the state singles championship event. In 1995 he was inducted into the Ohio State Trapshooting Hall of Fame.


Berlet is a seven-time ATA All-American: twice on the junior team, once on the men's, and four times on the veteran. His records indicate that he was the sixth in Ohio to earn his way to the 27-yard line. In 1995 he completed his career ATA Grand Slam (200x200 singles, 100 from the maximum handicap, 100 in doubles). In yearly singles averages, he ranked third in the ATA in 1967 (.9910) and tied for second in 1978 (.9921). Between 1982 and 1997, he entered a 99% or higher yearly singles average seven more times.


Before his retirement, Dave worked as an assembler and machine repairman. He continues to build shotgun ribs and stocks.