Hall of Fame Inductee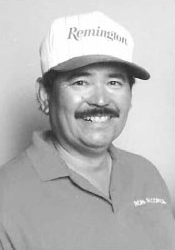 Ron Alcoriza
Inducted in 2012
Born: 7-Aug-1944

State: CA
While in the Army, Ron Alcoriza shot a little on the base, and after his service was complete, he began shooting as an extension of his love for hunting, the outdoors and firearms. He got his start in the clay-target sports with skeet, running 100 in his very first competition. However, after finding that he could shoot 300 targets in a day in trap. He fell in love with it.
Having attended his first Grand in 1985 and placing second in the Champion of Champions, Alcoriza won the event in I989. In 1990 he was runnerup in the Clay Target Championship after 200 and 19 overtime rounds, a record at the time. Four years later he landed the championship with 375 extras. He also placed second in the 1987 All-Around.
Ron captured the 1990 Spring Grand singles and doubles titles, and in Western Grand competition he topped the 1998 doubles, 2001 all-around and 2005 singles.
He earned spots on the All-American team every year from 1986 to 1995, including a first-team placement in 1991.

Having carded his first 100s in both singles and doubles in 1984, on June 30, 1989, at Stockton-Waterloo G&BC, Alcoriza smashed 100 from the 27 to complete his ATA Grand Slam.
He considers the highlights of his shooting career to include winning the Clay Target and Champion of Champions titles but says coaching youth shooters at Stockton is the high point of his shooting now. He spends much of his time on the line passing his knowledge on to the kids, which is something he really enjoys.
Ron shoots a Kolar and uses Federal ammunition. He considers himself self-taught. The shooters he has looked up to in the sport include fellow Californian Dan Bonillas, who he called a local hero, and Ray Stafford. His biggest influence has been his wife Susan, who he says kept pushing him and telling him to go out and have fun.
His advice to other shooters is not to turn shooting into work and just have fun and enjoy the sport and especially the people in it. He stressed the importance of having a professional fit your gun.
Alcoriza owns an auto repair business, working on BMWs, Mercedes and Rolls Royces. He has a son Dave and daughters Laura and Cristina. Dave participated in the 1996 Olympics in trapshooting, competing on the Army team for eight years. Ron said there's not much time for other hobbies besides shooting, but he also enjoys hunting and fishing occasionally.
The one word he said best describes him? "Grateful."